March 15, 2023
TOKYO-Mitsui O.S.K. Lines, Ltd. (MOL; President & CEO: Takeshi Hashimoto) today announced that renovation work on the 9th and 10th floors of its Head Office building in Tokyo, which began last August, was completed on Monday, March 13. This is the core element of the major office renovation, with the entire project slated for completion in April.
The renovation focused on the Safety Operation Supporting Center (SOSC, Note1), located on the 9th floor in the center of the 15-story, which has already begun operations as the hub of safe operations and crisis management for the MOL fleet.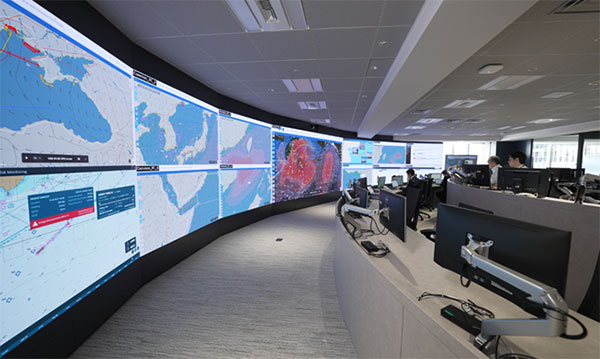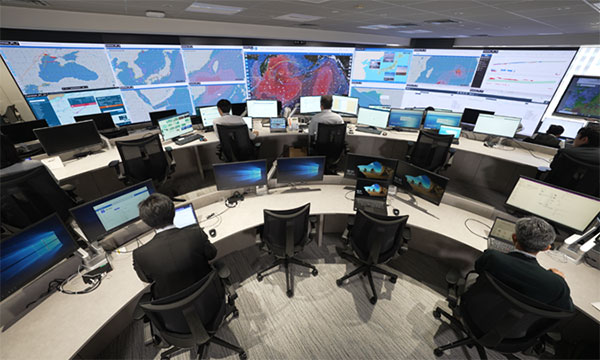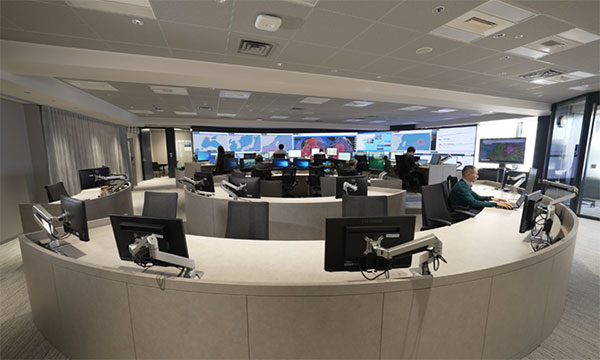 Since its establishment in 2007, at the SOSC, with the motto, "Don't leave a captain alone," MOL seafarers, including experienced captains, have been on duty providing operational support for all MOL-related vessels 24 hours / 365 days a year. SOSC has served as a base for MOL safety culture for many years.
A video wall system was introduced to the new SOSC to display wide range of information necessary for safe operation support on a large screen at the same time, enabling information to be shared seamlessly not only among the SOSC but also with those involved in the operation.
Furthermore, the space has evolved into a next-generation networked office centered on the SOSC, making it an easy gathering place for those involved in ship operations, by placing the SOSC in an open space and connecting it via an internal staircase to the office spaces on the upper and lower floors where the business divisions responsible for ship operations are located. This will strengthen the support system for vessels and everyone concerned, through the combined efforts of personnel in charge of ship operation and the SOSC.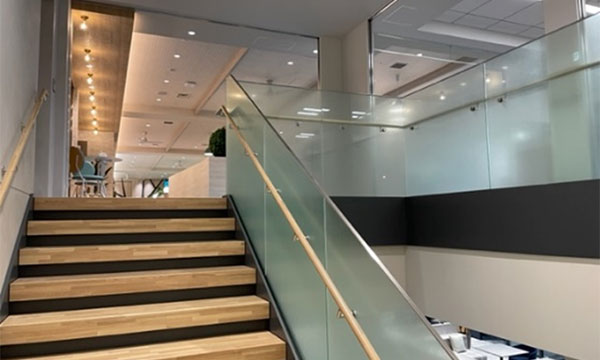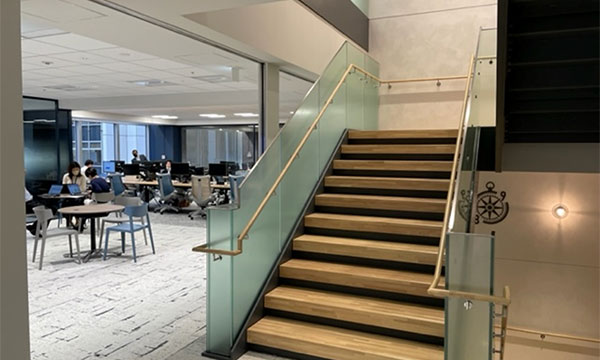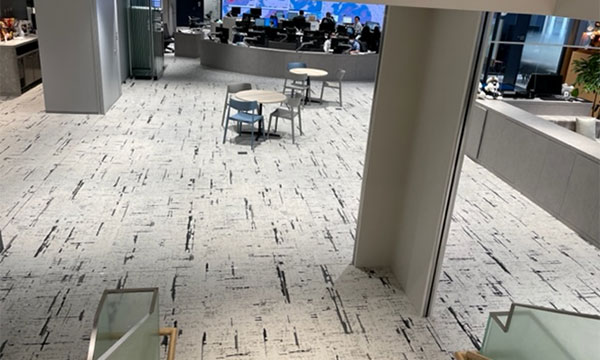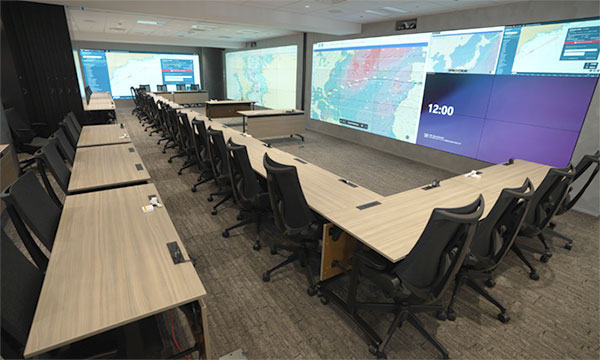 On the same floor as the SOSC, a new "Crisis Response Room" equipped with a large video wall system and web conferencing system has also been established to streamline preparation and response efforts related to all crises in the company, in both routine and emergency situations.
Through the innovation of the SOSC and the Crisis Response Room, MOL aims to further improve its crisis management system and achieve even safer operations.
In addition to the general office area, there is a café area on the 10th floor, with a design inspired by the sea and mountains of Mauritius, where MOL is working to protect and restore the natural environment and contribute to local communities. The café serves as a space where executives and employees from various divisions can casually drop by to deepen communication and connect with each other.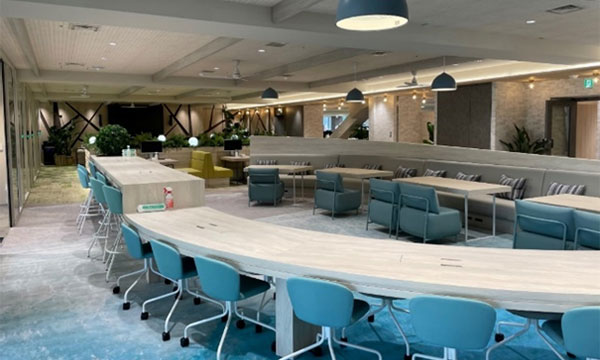 Even in the office area, in addition to providing space for individual concentration, MOL has increased the number of conference rooms and seats with monitors, microphones, and other equipment for web conferencing, which is becoming more frequent. This enables smooth and easy online connections with domestic, international, and internal/external stakeholders who work outside the office. As a result of these renovations, the area fosters increased employee productivity, satisfaction, and connection, and provides a foundation for innovative thinking and the creation of new ideas. Furthermore, the introduction of a free address system has stimulated communication across organizational boundaries and minimized the use of paper documents.
The new office, reborn under the concept of "always connected," transcends various barriers and only further promotes reforms in workstyles, including improving operational efficiency, deepening communication, strengthening team building, and so on, but also strives to spread safety awareness and continually takes on the challenge of evolving toward a sustainable future.
(Note 1) Established in February 2007, it was the world's first operation support center for ship owners and ship operators at the time, with the aim of delivering weather and various information in each sea area to not only the ship but all parties involved with the ship in an appropriate and timely manner, supporting the ship and parties until they can take appropriate action, and providing maximum onshore support when the ship is in a critical situation. Since then, the SOSC has accumulated know-how and outstanding information-gathering capabilities to flexibly respond to various situations, including changes in oceanic climate and geopolitical risks, and in the event of a crisis situation, it can prepare for any crisis by providing maximum support through a company-wide system with the keyword "One MOL."
The support provided by the SOSC has been indispensable and reassuring for captains, who are faced with ever-changing conditions and sometimes difficult decisions, and for operators who give operational instructions to vessels.
Organization to support Safe Operation | Sustainability | Mitsui O.S.K. Lines (mol.co.jp)
[MOL Group 5 Sustainability Issues]
MOL Group will contribute to realizing a sustainable society by promoting responses to sustainability issues, which are identified as social issues that must be addressed as priorities through its business.
We anticipate this initiative to contribute especially to the realization of "Safety & Value -Provide added value through safe transportation and our social infrastructure business-", "Human & Community -Contributing to the growth and development of people and communities-", and "Innovation -Innovation for development in marine technology-."