March 17, 2023
TOKYO-Mitsui O.S.K. Lines, Ltd. (MOL; President & CEO: Takeshi Hashimoto) today announced that it was selected as a "CDP2022 Supplier Engagement Leader" in the "Supplier Engagement Rating (SER)" by the international environmental non-profit organization CDP (Note).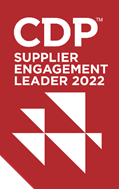 The Supplier Engagement Rating (SER) evaluates how effectively a company is working with its suppliers on climate change issues. Companies are assigned a score based on the Supplier Engagement Rating (SER) in addition to the score on the CDP Climate Change Questionnaire. The top 8% of companies evaluated are selected as Supplier Engagement Leaders.
The MOL Group's target is to achieve net zero greenhouse gas(GHG) emissions by 2050 in the "MOL Group Environmental Vision 2.1," announced in June 2021. While working with various stakeholders, the group will promote decarbonization throughout the supply chain, including proactive use of LNG fuel, initiatives to introduce zero-emission fuels, use of wind force including the Wind Challenger (a hard sail wind power propulsion system) , and reduction of fuel consumption by boosting operating efficiency.
The group identifies "Sustainability Issues (materiality)" as social issues that should be addressed as a priority through its business activities, and carries forward initiatives to resolve issues in each field of ESG based on the "MOL Sustainability Plan."
Based on the MOL Group Corporate Mission "From the blue oceans, we sustain people's lives and ensure a prosperous future," the group will continue to accelerate these initiatives to enhance its social and economic value, aiming to be a strong and resilient corporate group that grows on a global scale.
(Note) A non-profit organization founded in the U.K. in 2000. Working with more than 680 investors who hold more than US$130 trillion in assets, the organization operates a global disclosure system to help investors, companies, nations, regions, and cities manage their own environmental impacts. In 2022, more than 18,700 companies, representing half of the world's market capitalization, and nearly 20,000 organizations worldwide, including more than 1,100 cities, states, and territories, will be disclosing data through the CDP.
[MOL Group 5 Sustainability Issues]
We anticipate this initiative to contribute especially to the realization of "Environment -Conservation for Marine and global environment-."