April 28, 2023
TOKYO-Mitsui O.S.K. Lines, Ltd. (MOL; President & CEO: Takeshi Hashimoto) today made a decision by the Board of Directors meeting held today to accept to acquire the third-party allotment of new shares of MODEC, Inc. (MODEC; President and CEO: Takeshi Kanamori; Headquarters: Chuo-ku, Tokyo, Note 1) together with MITSUI & CO., LTD. (MITSUI & CO.; President and CEO: Kenichi Hori; Headquarters: Chiyoda-ku, Tokyo) and to conclude a business alliance agreement with MODEC. After the underwriting, MOL's stake in MODEC will be 14.86% and will be the second largest shareholder, same share as that of MITSUI & CO.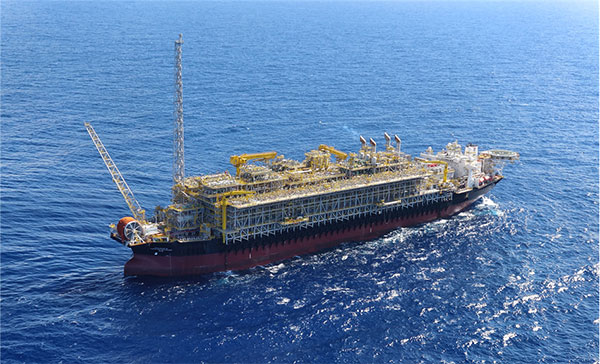 MODEC is a leading provider of solutions to the floating offshore oil & gas market such as FPSO. These units can handle oil & gas production in ultra deep water and in harsh environments. MODEC has an exceptionally strong track record to prove its excellency. MOL has been focusing on the enormous potential of marine resources and energy which will contribute to a stable supply of energy, and has been engaged in the FPSO business, in cooperation with partner companies such as MODEC and MITSUI & CO.
Combining MODEC's world-leading technology in marine condition analysis and designing floating structures with MOL's long-standing expertise in marine solutions, we aim to open new horizons together in our efforts toward decarbonization era. MOL is committed to expanding its non-shipping business, including offshore businesses, as set out in the "BLUE ACTION 2035" corporate management plan, and this investment and business alliance will contribute to this strategy.
Through the business alliance, MOL will further strengthen its relationship with MODEC as strategic partners, and will mutually leverage its management resources to strengthen the competitiveness of the offshore business, and sustain people's lives and ensure a prosperous future as a global social infrastructure company with its origins in the sea.
(Note 1) MODEC's official website : https://www.modec.com/
[Outline of the third-party allotment]
| | |
| --- | --- |
| (1) Type and number of shares to be underwritten | 10,162,300 shares of common stock |
| (2) Amount to be paid | 12,845,147,200 yen |
| (3) Payment date | June 30, 2023 |
[Details of business alliance]
Provision of know-how on design, construction, leasing, operation, etc. of FPSO, etc. by MODEC
MOL's global network and expertise in business development, financing, and regional expertise
MOL's cooperation in strengthening MODEC's business operation systems
MOL's human resource support to MODEC
[MOL's timely disclosure of this matter]
https://www.mol.co.jp/en/ir/data/pdf/news_230428e.pdf
MOL Group 5 Sustainability Issues
MOL Group will contribute to realizing a sustainable society by promoting responses to sustainability issues, which are identified as social issues that must be addressed as priorities through its business.
We anticipate this initiative to contribute especially to the realization of "Safety & Value -Provide added value through safe transportation and our social infrastructure business-", "Environment -Conservation for Marine and global environment-" and "Innovation -Innovation for development in marine technology-".