May 25, 2023
TOKYO-Mitsui O.S.K. Lines, Ltd. (MOL; President & CEO: Takeshi Hashimoto) today announced 2 awards for the company in the Ship of the Year 2022. The Shofu Maru, the world's first coal carrier equipped with the Wind Challenger hard sail wind propulsion system, owned and operated by MOL (Note 1), have received the 'Ship of the Year 2022,' and Japan's first LNG-fueled ferry, the Sunflower Kurenai, (Note 2) owned by MOL and operated by its group company Ferry Sunflower Limited (President: Mitsujiro Akasaka; Head Office: Oita-shi, Oita Prefecture), have received 'Large Passenger Ship Sector Award.'
The Ship of the Year Awards, presented annually by the Japan Society of Naval Architects and Ocean Engineers (JASNAOE) are given to outstanding vessels or offshore structures built in the past year, based on technical, artistic, and social considerations. This marks the 33rd year of the event.
This is MOL's seventh Ship of the Year Award, and the first time in three years that MOL Group operated ship has won some kind of prize in The Ship of the Year Awards since the 2019 LNG-fueled tugboat Ishin.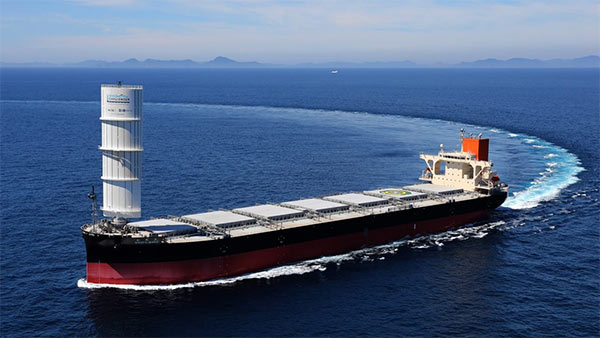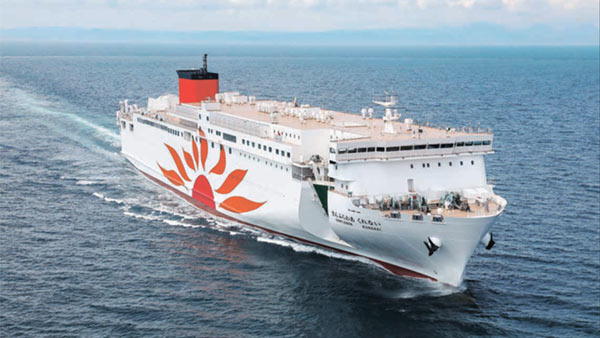 The Shofu Maru is a 100,000 DWT coal carrier equipped with the Wind Challenger hard sail system and transport coal mainly from Australia, Indonesia and North America as a dedicated vessel for Tohoku Electric Power Co. The vessel earned high marks for its significant reduction of greenhouse gas (GHG) emissions by directly using wind power as a propulsion force, and for the development and implementation of ancillary equipment such as a fully automated control system that maintains the sail in an optimal state according to ocean weather conditions and the Weather Routing System that suggests the best route for the vessel.
The Sunflower Kurenai is Japan's first LNG-fueled ferry, which reduces environmental impact and furthers Japan's efforts toward a modal shift in cargo transport. It also opens up new horizons for the MOL Group's Casual Cruise (Note 3) concept. In particular, the vessel was highly regarded for its stable LNG-fueled operation, which not only reduces GHG emissions, but also contributes to the reduction of environmental impact in coastal and port waters, and for its contributions to LNG infrastructure development, which has a limited track record in Japan. The fact that LNG fueling was achieved on the familiar and historic Osaka-Beppu route was also recognized, not only for its immediate effects, but also for its role in raising awareness of the need to reduce environmental impact.
MOL set a target of achieving net zero GHG emissions for the entire MOL Group by 2050 under the "MOL Group Environmental Vision 2.2." It will reduce impacts on the global environment through various initiatives including use of wind power and adoption of clean alternative fuels with concerted efforts throughout the Group.
MOL will leverage its experience and expertise as one of the world's largest shipping companies to develop various social infrastructure businesses, technologies, and services, centering on ocean transport, to meet the needs of a wide range of customers throughout the group. It aims to become a global social infrastructure company, a strong and resilient corporate group that supports people's daily lives from the blue oceans, ensures a prosperous future, and delivers new value to all of its stakeholders.
(Note 1) Please refer to the past press releases for Wind Challenger.
August 10, 2022: MOL Signs Deal to Build 2nd Bulk Carrier Equipped with 'Wind Challenger' Hard Sail System - Reducing Environmental Impact by Using Wind as Vessel's Propulsive Force -
October 7, 2022: Delivery of SHOFU MARU, World's First Cargo Vessel equipped with 'Wind Challenger' Hard Sail
(Note 2) Please refer to the past press releases for the Sunflower Kurenai.
December 22, 2022: LNG-fueled Ferry Sunflower Kurenai Starts to Receive LNG Fuel Supply - Marks Japan's 1st Truck-to-Ship LNG Bunkering with Skid -
January 16, 2023: Japan's 1st LNG-fueled ferry, Sunflower Kurenai, Enters Service - Reducing Environmental Impact, Realizing Modal Shift and Offering 'Casual Cruise' -
April 17, 2023: MOL Group's 2nd LNG-fueled Ferry, Sunflower Murasaki, Enters Service - New Company Plans to Operate 4 Vessels by 2025 as MOL Group Steadily Expands LNG-fueled Fleet -
(Note 3) The basic concept of the MOL Group's ferry business, which allows passengers to casually enjoy a high-quality cruise with regular routes and schedules.
---
MOL Group 5 Sustainability Issues
MOL Group will contribute to realizing a sustainable society by promoting responses to sustainability issues, which are identified as social issues that must be addressed as priorities through its business.
We anticipate this initiative to contribute especially to the realization of "Safety & Value -Provide added value through safe transportation and our social infrastructure business-", "Environment -Conservation for Marine and global environment-," and "Innovation -Innovation for development in marine technology-."