June 06, 2023
TOKYO-Mitsui O.S.K. Lines, Ltd. (MOL; President & CEO: Takeshi Hashimoto) today announced that it has conducted a sea trial for Starlink, a satellite communication service operated by Space Exploration Technologies Corp. (Space X) and provided through Marlink AS (President Maritime: Tore Morten Olsen, Head Office: Norway), on a MOL-operated ocean-going vessel.
Starlink uses low-earth orbit satellites to provide high-speed, low-latency connectivity. The use of Starlink onboard vessels will enhance safe operations by allowing real-time, ship-to-shore sharing of systems and data. It will also allow seafarers to access to high-speed communication during their off-duty hours onboard. This is expected to dramatically improve seafarers' morale and well-being. The trial was conducted onboard MOL-operated ocean-going vessel and confirmed drastic improvement of up to 50 times in communication speed compared to conventional systems. In the future, MOL will conduct continuous trials on multiple vessels, and based on the results of the trials, MOL will develop and publicize a vision for the future of shipboard operations and lifestyles that will be realized by improving the onboard communication environment, while continuing to promote the adoption of such systems on MOL Group-operated vessels.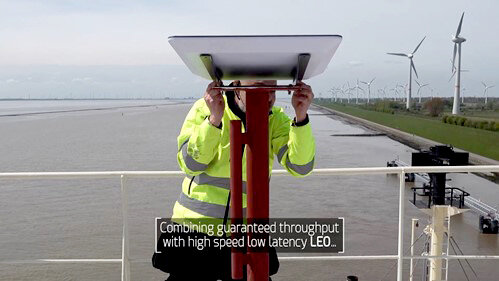 A crewmember aboard the trial vessel commented, "Seafarers' work requires to spend time far from home, and it is extremely important to have improved Internet connectivity onboard so that we can connect with family and friends in real time via video calls, even while we are at sea."
MOL Group will improve the quality of onboard life for seafarers and further pursue the digital transformation by utilizing satellite communication services that offer high-speed, low-latency connections at sea, where the communication environment is significantly inferior to that on land.
---
MOL Group 5 Sustainability Issues
MOL Group will contribute to realizing a sustainable society by promoting responses to sustainability issues, which are identified as social issues that must be addressed as priorities through its business.
We anticipate this initiative to contribute especially to the realization of "Safety & Value -Provide added value through safe transportation and our social infrastructure business-", "Human & Community -Contributing to the growth and development of people and communities-", and "Innovation -Innovation for development in marine technology-".