June 15, 2023
TOKYO-Mitsui O.S.K. Lines, Ltd. (MOL; President & CEO: Takeshi Hashimoto) today announced that it has concluded a time charter contract with Shimizu Corporation for two crew transfer vessels (CTV) (Note 1) for offshore windfarm at Ishikari Bay New Port. This marks the MOL Group's first entry into the CTV business. In addition, one of the CTVs, The KAZEHAYA owned by MOL, is the first CTV in Japan managed and operated under International Safety Management (ISM) Code (Note 2), which is the international standard of ship safety management system, certified by Nippon Kaiji Kyokai(ClassNK).
MOL Group company MOL Coastal Shipping, Ltd. (President: Hiroshi Kobayashi; Headquarters: Minato-ku, Tokyo) will operate the CTVs, which will support the construction and operation of the project, transporting workers to and from the offshore windfarm. The vessels are slated to begin service later this month. By applying the international standard ship safety management system to a coastal CTV in Japan , the MOL Group will provide higher quality CTV services at offshore windfarms that will be developed in various parts of Japan in the future.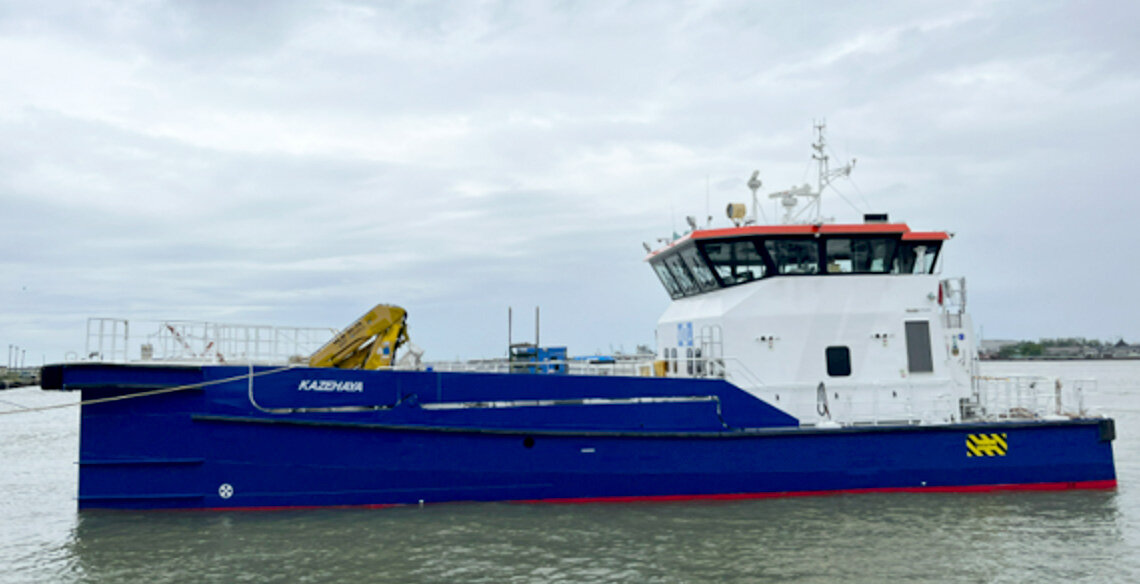 The windfarm is being developed by a special purpose company (SPC) called Green Power Ishikari LLC (established in February 2016 by Green Power Investment Corporation). The installation of 14 units of 8 MW wind turbines manufactured by Siemens Gamesa, will take place at an offshore site with an area of approximately 500 hectares.
The Japanese government has declared its target of achieving carbon neutrality, which means zero overall greenhouse gas (GHG) emissions by 2050. Offshore wind power is positioned as an important future source of electricity, and construction of offshore wind power facilities is expected to begin in earnest around 2026. The MOL Group will use this project as a foothold to deepen its knowledge of CTV operation and contribute to the wider development and use of offshore wind power generation.
In line with the "MOL Group Environmental Vision 2.2," the MOL Group will contribute to the stable supply of renewable energy to create a sustainable world, and promote the reduction of various impacts on the global environment, such as the protection of natural capital and biodiversity, as well as climate change countermeasures.
[MOL Group Offshore Wind Power-Related Business]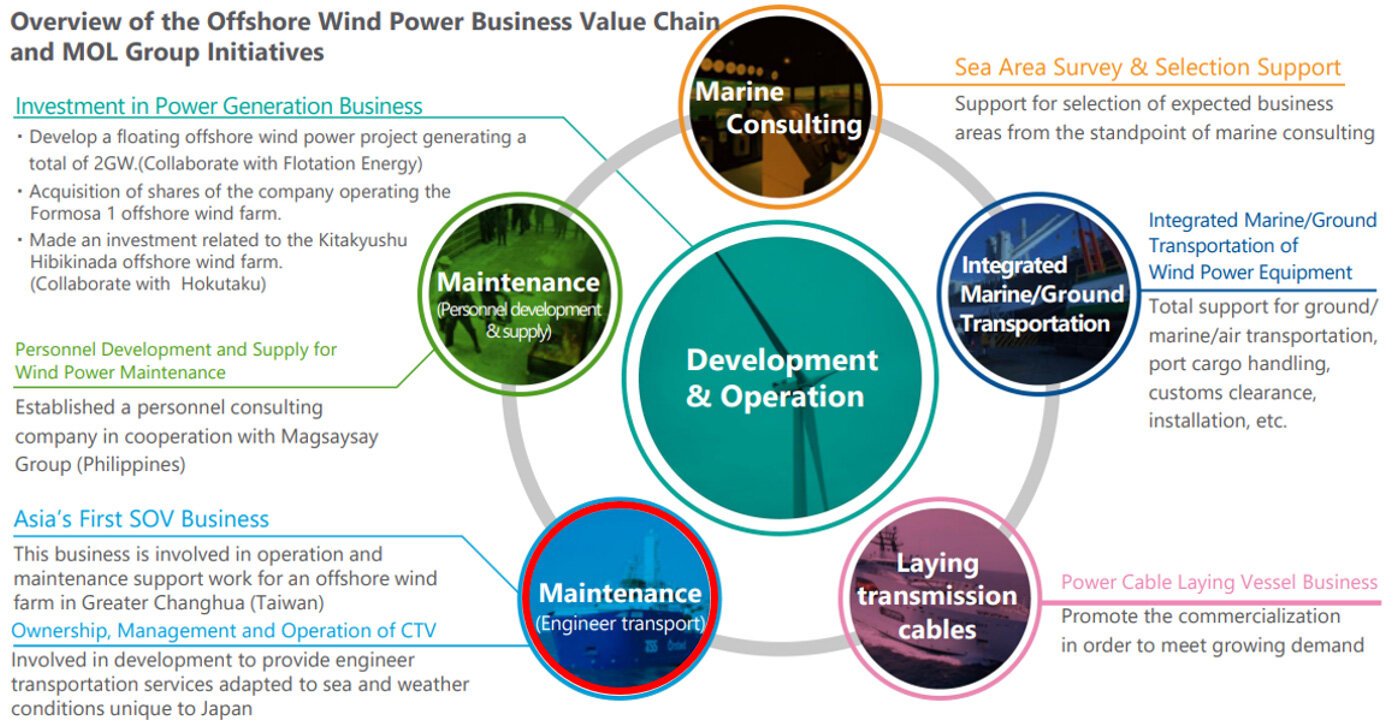 [Main specifications of 2 CTVs]
(Note 1) [About Crew Transfer Vessels (CTV)]
CTVs operate from a base port to bring maintenance engineers to offshore wind farms that are relatively close to shore. The fenders attached to the bow of the vessel are pressed against the offshore wind turbine to stabilize the hull, allowing personnel to board the wind turbine platform. Aluminum catamarans are the mainstream hull type.
(Note 2) [About International Safety Management (ISM) Code]
Series of rules established by the International Convention for the Safety of Life at Sea (SOLAS) to prevent maritime incidents caused by human error. It is mandatory to follow ISM Code for those who manage all ocean-going vessels with a gross tonnage of 500 tons or more and passenger ships engaged in international voyages. In the case of coastal vessels trading in Japan, certifications based on these regulations can be voluntarily obtained from Nippon Kaiji Kyokai(Class NK).
---
MOL Group 5 Sustainability Issues
MOL Group will contribute to realizing a sustainable society by promoting responses to sustainability issues, which are identified as social issues that must be addressed as priorities through its business. We anticipate this initiative to contribute especially to the realization of "Safety & Value -Provide added value through safe transportation and our social infrastructure business-", "Environment -Conservation for Marine and global environment-", "Innovation -Innovation for development in marine technology-".