June 28, 2023
TOKYO-Mitsui O.S.K. Lines, Ltd. (MOL; President & CEO: Takeshi Hashimoto) today announced the acquisition of approval in principle (AiP)*1 for a liquefied CO2 (LCO2) carrier from ship classification societies Det Norsk Veritas AS (DNV) and the American Bureau of Shipping (ABS). In addition, ABS issued an AiP for a floating storage and offloading (FSO) unit. Both the carrier and the FSO were jointly developed by MOL, Malaysian state oil company Petroliam Nasional Berhad (PETRONAS), and the Shanghai Merchant Ship Design & Research Institute (SDARI).
The presentation ceremony took place on June 26 at the Kuala Lumpur Convention Centre, the venue of Energy Asia*2, an international conference to promote sustainable development of the energy industry aimed at achieving net zero emissions in Asia.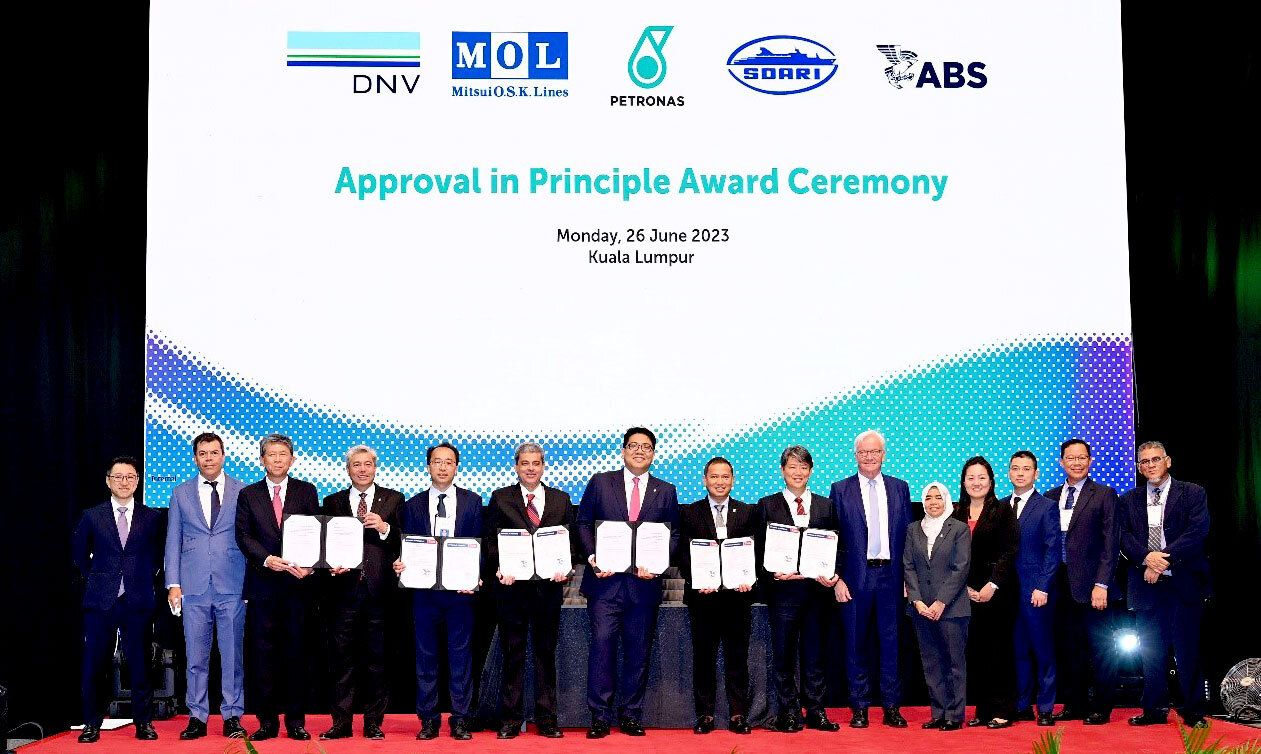 Under a memorandum of understanding (MoU) signed on February 7, 2022*3, MOL and PETRONAS have jointly studied the optimum means of ocean transport for LCO2 within the Asia Pacific and Oceania region and, in cooperation with SDARI, completed the concept study of LCO2 carriers and FSO. An FSO is a floating facility that can receive, store, and offload cargo offshore, and LCO2 FSOs are considered one of the most effective scenarios in the carbon capture, utilization, and storage (CCUS) market. Completion of these concept designs and acquisition of AiPs clears the way toward a flexible approach to transport needs in consideration of volume, transport distance, and direct transport to FSOs near offshore storage facilities.
MOL Senior Managing Executive Officer Nobuo Shiotsu said, "MOL is pleased with our achievement of the various designs of the LCO2 carrier and FSO in cooperation with PETRONAS and SDARI. Development on a large scale is an essential step for the CCUS value chain within the Asia Pacific and Oceania region. Through the newly acquired AiP, the MOL Group will further accelerate this initiative on the CO2 transport business to contribute to reducing society's overall GHG emissions."
Upstream PETRONAS Executive Vice President and Chief Executive Officer Adif Zulkifli said, "LCO2 carriers for CO2 transportation play a key role in the carbon capture and storage value chain. The acquisition of the AiPs further strengthens PETRONAS' commitment in offering decarbonization solutions, aligned with our aspiration in establishing Malaysia as a leading CCS hub in the region."
"SDARI is delighted to join the innovative project with PETRONAS and MOL. The concepts will be essential to LCO2 transportation and operation, and will boost CCUS development in the maritime industry. The acquisition of the AiPs is the new start and SDARI will continuously provide more and more innovative solutions to partners for the ambitious decarbonization plan." said SDARI Vice President Zhou Zhiyong.
MOL will further collaborate with PETRONAS through the newly acquired AiPs and will continue its efforts to develop various technologies including LCO2 carriers and FSOs, and build a diverse CCUS value chain, contributing to the realization of a carbon-neutral society.
The MOL Group Vision is to develop various social infrastructure businesses centered on marine transport and to meet the changing needs of society, including environmental conservation, through the evolution of technology and services. This is an initiative in line with not only the MOL Group Vision, but also the expansion of offshore and non-shipping businesses set forth in the "BLUE ACTION 2035" management plan and the "Expand low-carbon/decarbonized business by leveraging the group's collective strengths," which is one of the actions set out in the "MOL Group Environmental Vision 2.2." With these contributions for the sustainable development of society and the preservation of nature, the MOL Group sustains and ensures a prosperous future from the blue oceans.
Outline of LCO2 carriers and FSO
---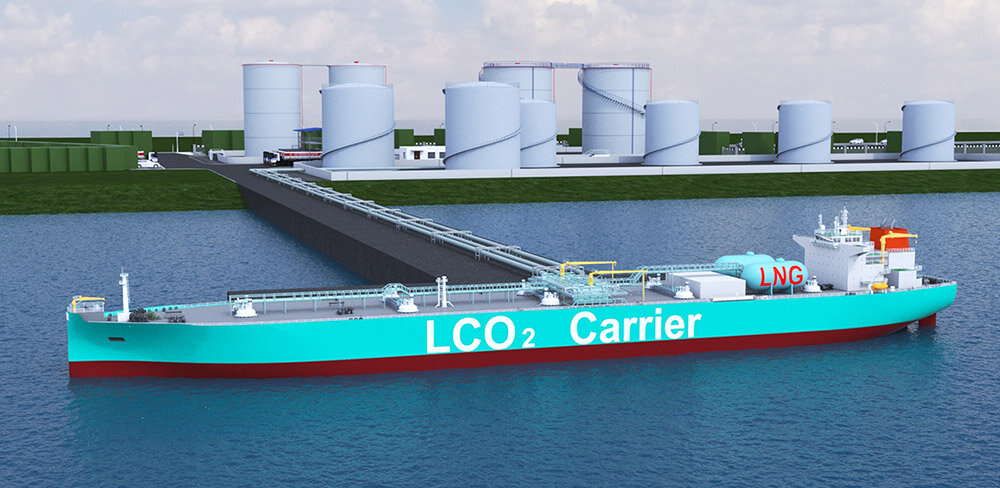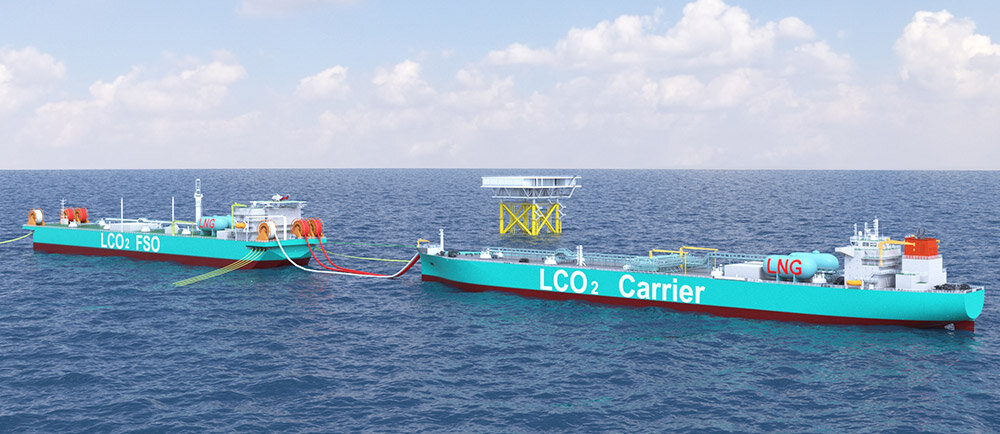 *1 Approval in principle (AiP) indicates that the certification body has reviewed the basic design and approved it as satisfying the technical requirements and safety criteria.
*2 For more information, please refer to the following website:
Energy Asia | 26-28 June 2023 (officalenergyasia.com)
*3 For more information, please refer to the February 8, 2022 press release:
MOL and PETRONAS Sign MoU on Liquefied CO2 Transportation for CCUS
*4 A Dynamic positioning system (DPS) automatically calculates external forces such as wind, wave, swell and tidal currents to maintain a vessel at a fixed point or navigate a set route with precision. It is installed on cable-laying ships, offshore wind power-related special-purpose vessels, and seabed oil field-related offshore vessels to maintain their position precisely at a fixed point to do their work.
---
MOL Group 5 Sustainability Issues
The MOL Group will contribute to realizing a sustainable society by promoting responses to sustainability issues, which are identified as social issues that must be addressed as priorities through its business.
We expect this initiative to contribute especially to the realization of "Safety & Value -Provide added value through safe transportation and our social infrastructure business-", "Environment -Conservation for Marine and global environment-" and "Innovation -Innovation for development in marine technology-".