July 12, 2023
TOKYO-Mitsui O.S.K. Lines, Ltd. (MOL; President & CEO: Takeshi Hashimoto) today announced that the LNG-fueled tugboat Ishin (Note 1), owned by MOL and operated by its group company Nihon Tug-Boat Co., Ltd. (President: Keizo Tamura; Headquarters: Chuo-ku, Kobe), has marked its 100th LNG bunkering at the Port of Sakai-Semboku, Osaka, after entering service in 2019.
A ceremony to celebrate this milestone was held at the Port of Sakai Semboku, and a commemorative plaque was presented by the Osaka Ports and Harbors Bureau (Director: Junya Maruyama; Headquarters: Suminoe-ku, Osaka City).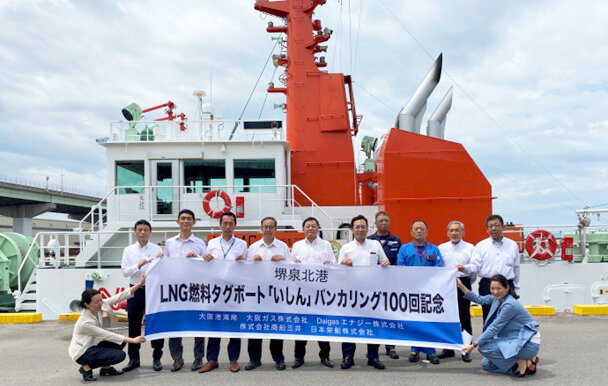 The Ishin is currently engaged in harbor towage and escort (Note 2) operations for large freighters and other vessels  mainly in the Port of Sakai-Semboku. It receives carbon neutral LNG (Note 3) from Osaka Gas Co., Ltd. (President: Masataka Fujiwara; Headquarters: Chuo-ku, Osaka) and Daigas Energy Co., Ltd. (President: Masayuki Inoue; Headquarters: Chuo-ku, Osaka) by the truck-to-ship system (Note 4) using LNG trucks.
The MOL Group has moved forward with the "adoption of clean alternative energy" strategy toward de-carbonization/low carbonization in line with "MOL Group Environmental Vision 2.2," with the aim of achieving net zero greenhouse gas (GHG) emissions by 2050. It will further expand the introduction of LNG-fueled vessels as an initiative that can be taken now, and accelerate our efforts to reduce total GHG emissions.
(Note 1) Please refer to the following past press releases regarding the LNG-fueled tugboat "Ishin."
(Note 2) The tugboat supports safe navigation by keeping a watchful eye around large vessels outside the port and in narrow waterways.
(Note 3) Carbon-neutral LNG uses credits to offset greenhouse gas (GHG) emissions throughout its life cycle, including the processes of extraction, liquefaction, transport, production, and combustion of natural gas.
(Note 4) The truck-to-ship LNG bunkering procedure supplies LNG fuel from an LNG truck on shore.
---
MOL Group 5 Sustainability Issues
MOL Group will contribute to realizing a sustainable society by promoting responses to sustainability issues, which are identified as social issues that must be addressed as priorities through its business.
We anticipate this initiative to contribute especially to the realization of "Environment -Conservation for Marine and global environment-" and "Innovation -Innovation for development in marine technology-."