August 01, 2023
Mitsui O.S.K. Lines, Ltd.
KDDI Corporation
TOKYO-Mitsui O.S.K. Lines, Ltd. (MOL; President & CEO: Takeshi Hashimoto; Head Office: Minato-ku, Tokyo) and KDDI Corporation (President: Makoto Takahashi; Head Office: Chiyoda-ku, Tokyo) today announced that from August 2023 onward, the two companies will conduct trial use of satellite broadband "Starlink Business (https://biz.kddi.com/service/starlink/)" onboard a MOL Group-operated cruise ship, ferries, and a coastal RORO vessel aimed at enhancing the communication environment aboard ships.
Starlink enables a communication environment with a maximum download speed of 220 Mbps (Note 1) during the voyage, and contributes to High-speed Communication and Safe Navigation for Crewmembers and Passengers. The trial will evaluate the system from both technical and economic standpoints, and MOL Group plans to introduce the system from autumn 2023 onwards, depending on the situation and schedule of each ship.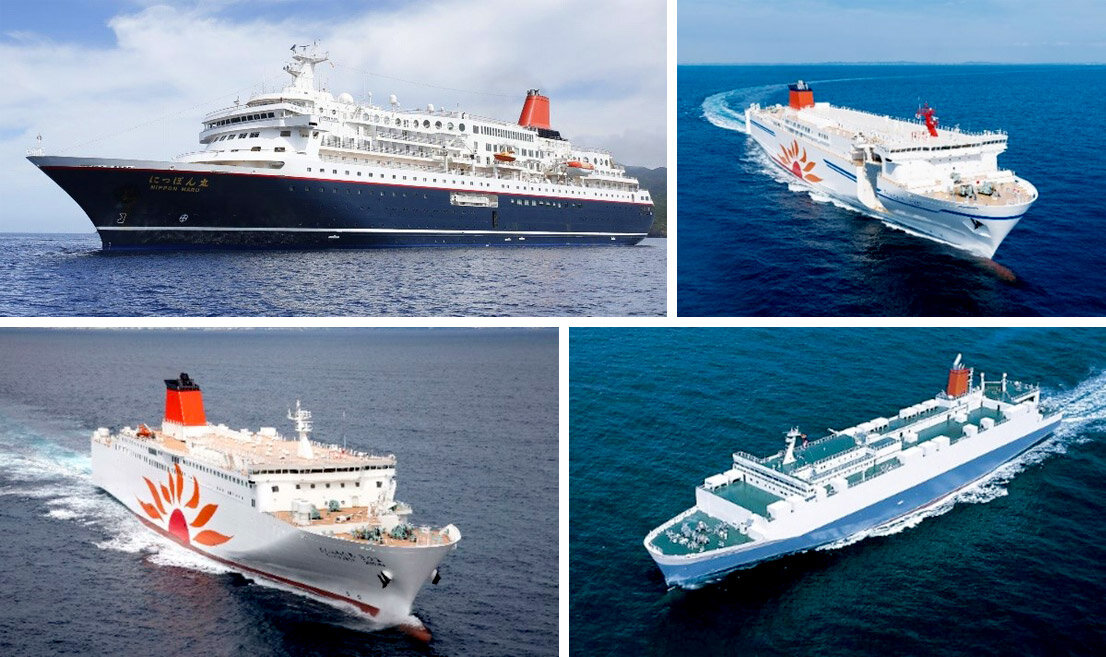 ---
Background
At sea, signals from far-off base stations are weak, making it difficult to use ordinary high-speed cell phone communications. Conventionally, satellite communication services using geostationary orbiting satellites have been utilized, but the increasing volume of information and data presents challenges for real-time ship-to-shore communication.
For ocean shipping companies that operate ships at sea, improving the quality of ship safety management is an important initiative to ensure safe navigation. Improving the onboard communication environment is critical to more effectively sharing systems and data related to ship operations with land-based staff in real time.
Many crewmembers, especially younger ones, have expressed a need for the same high-speed Internet access that is available on land, so the working environment must be improved by eliminating the onshore/offshore information gap. In addition, cruise ship and ferry passengers are increasingly requesting high-speed Internet access onboard as a way to enrich their travel experience.
---
About the Trial
In this trial, a total of four ships-the cruise ship Nippon Maru operated by MOL Cruises, Ltd. (Note 2) (President: Yusuke Ueno; Headquarters: Minato-ku, Tokyo), the ferry Sunflower Sapporo and RORO vessel Musashi Maru operated by MOL Ferry Co., Ltd. (President: Naotoshi Omoto; Headquarters: Chiyoda-ku, Tokyo), and the ferry Sunflower Satsuma operated by Ferry Sunflower Limited (President: Mitsujiro Akasaka; Head Office: Oita-shi, Oita Prefecture), will be equipped with the "Starlink Business" communication service for maritime use (Note 3). The initial trial will be conducted with crewmembers and employees, and based on the results, the companies will discuss expanding the use of the trial to passengers onboard.
---
About "Starlink" for Trial Use
A communication service for maritime use of Starlink Business, a satellite broadband service provided by KDDI to corporations and municipalities.
Starlink enables a communication environment with a maximum download speed of 220 Mbps during the voyage. The environment will be comparable to land-based internet service, enabling easy access to information necessary for navigation.
High-speed communication will also enable passengers on cruise ships and ferries to share videos and other information taken during their trip in real time.
MOL Group has already conducted trials on ocean-going ships and confirmed an improvement in communication speed of up to 50 times compared to existing communication facilities (Note 4).
---
MOL and KDDI will offer more comfortable cruises and improve the quality of work and life onboard for crewmembers while further pursuing digital transformation at sea, by utilizing satellite communication services that enable high-speed communication in maritime areas where it is difficult to establish a communication environment.
---
(Note 1)
The July 3, 2023 KDDI News Release
Starlink is now available for use at sea ~First to offer service, starting from within Japan's territorial waters ~
https://news.kddi.com/kddi/corporate/newsrelease/2023/07/03/6823.html
(Note 2)
On August 1, 2023, the company name was changed from "Mitsui O.S.K. Passenger Line, Ltd." to "MOL Cruises, Ltd."
(Note 3)
Use at sea is limited to 12 nautical miles (approx. 22 km) seaward of the reference coastline (baseline).
Mobile use on land is not allowed. Communication speed is on a best-effort basis.
(Note 4)
The December 12, 2022, MOL press release
MOL to Introduce Trial Use of Starlink Satellite Communication Service onboard Ocean-going Vessels -Safer operations and improved quality of life for crew members-
https://www.mol.co.jp/en/pr/2022/22138.html
The June 6, 2023 MOL press release
MOL Conducts Sea Trial of Starlink Satellite Communication Service Onboard Ocean-going Vessel - Confirmed up to 50 Times Faster Communication Speed -
https://www.mol.co.jp/en/pr/2023/23070.html