August 10, 2023
TOKYO-Mitsui O.S.K. Lines, Ltd. (MOL; President & CEO: Takeshi Hashimoto) today announced that MOL Ship Management Co., Ltd. and MOL Marine & Engineering Co., Ltd., both wholly owned MOL subsidiaries, have been selected as a pre-commissioning crew dispatcher (Note 1) and expected operator for the Arctic research vessel (Note 2) ordered by the Japan Agency for Marine-Earth Science and Technology (JAMSTEC; President: Dr. Hiroyuki Yamato; Headquarters: Yokosuka-shi, Kanagawa Prefecture). JAMSTEC's decision is based on the results of the review process in the Call for Proposals.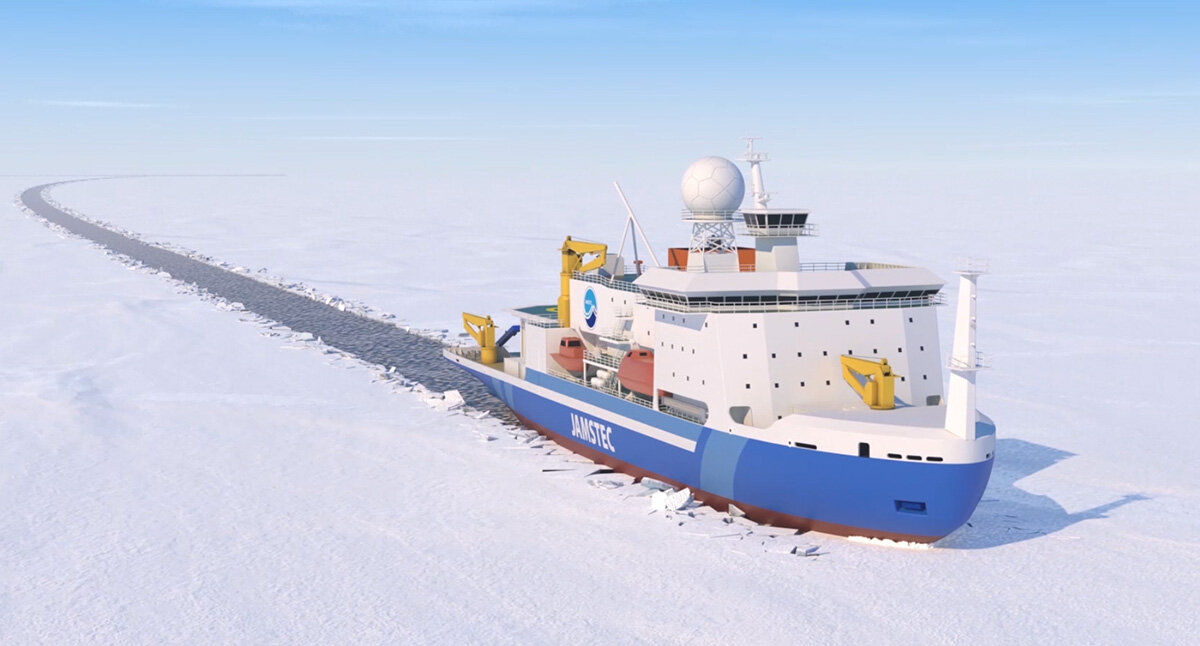 The vessel, currently under construction, will be Japan's first ice-breaking Arctic research vessel, and serve as an international research platform with world-class observation functions. The objectives are to contribute to the sustainable development, utilization, and conservation of the Arctic region by conducting comprehensive observations of the region's atmosphere, meteorology, oceans, and sea ice and enhancing the collection of observational data and scientific knowledge, and to foster the development of researchers, engineers, and other highly skilled personnel.
In response to its selection as the pre-commissioning crew dispatcher and expected operator, the MOL Group will offer the pre-commissioning crew dispatch services until the vessel is delivered, which is expected to be around November 2026, and take charge of vessel operation after delivery.
The MOL Group is committed to addressing evolving social needs, including environmental conservation, with innovative technology and services and to delivering new value to all stakeholders, and fully recognizes the significance of the Arctic research vessel, which brings new value to people, society, and the Earth. The group will contribute to a better future for the Earth through safe operation of the vessel and creation of an international research platform by utilizing its accumulated know-how and human resources developed in the operation of Arctic shipping routes and handling of LNG fuel.
The MOL Group has positioned environmental strategy as a key element in its "BLUE ACTION 2035" management plan, and established the "MOL Group Environmental Vision 2.2." The group will make a concerted effort not only on measures for climate change, but also marine environmental conservation, biodiversity protection, and air pollution prevention.
(Note 1)
A pre-commissioning crew is a person who is dispatched to the shipyard prior to the delivery of the vessel to attend the outfitting and commissioning of the vessel and check the quality and consistency with the construction specifications and identify any defects. The pre-commissioning crews to be dispatched will be the vessel's crew after delivery.
(Note 2)
Outline of the vessel (Source: JAMSTEC)
Main specifications (plan)
(1)Length: 128m
(2)Beam: 23m
(3)Draft: 8m
(4)Gross tonnage: 13,000 tons
(5)Ice-breaking capacity: Capable of continuously breaking 1.2m of flat, one-year ice at a speed of 3.0 knots
(6)Ice Class: Polar Class 4
(7)Accommodations: 99 persons
Main requirements for Arctic research vessel
(1)High-precision, multi-parameter observation equipment for atmospheric, oceanic, meteorological, and biological research
(2)Fuel-efficient hull shape for ice-breaking, ice-resistant performance, and navigation in ice-free areas
(3)Equipped with an advanced ice-sea navigation support system
(4)Dual-fuel engine to reduce environmental impact
(5)Dynamic positioning system
(6)Facilities for deployment and operation of unmanned underwater vehicles (ROVs, AUVs, etc.)
(7)Helicopter facilities for safety and sea ice observation
(8)Ideal research and analysis environment with a variety of laboratory spaces and excellent network infrastructure
(9)Living and working environment for multinational teams
(10)Potential for multi-use and expandable functions (e.g. operation and assistance in areas affected by natural disasters)
For more information on the vessel's features and project details, please refer to the web or the video below:
https://www.jamstec.go.jp/parv/e/
https://youtu.be/DcH_UA4cf8k
---
MOL Group 5 Sustainability Issues
MOL Group identifies "Sustainability Issues" (Materiality) as our key issues for sustainable growth with society through realization of the Group Vision.
We anticipate this initiative to contribute especially to the realization of "Safety & Value -Provide added value through safe transportation and our social infrastructure business-", "Environment -Conservation for Marine and global environment-," "Human & Community -Contributing to the growth and development of people and communities-," and "Innovation -Innovation for development in marine technology-."