August 25, 2023
TOKYO-Mitsui O.S.K. Lines, Ltd. (MOL; President & CEO: Takeshi Hashimoto) today announced that it will be contracted to study liquefied CO2 transport by vessel in a carbon dioxide capture and storage (CCS) project off the northern to western coast of Kyushu (see chart below) in a project implemented by ENEOS Corporation (ENEOS; President: Takeshi Saito; Headquarters: Chiyoda-ku, Tokyo), Electric Power Development Co., Ltd. (J-Power; President: Hitoshi Kanno; Headquarters: Chiyoda-ku, Tokyo), and JX Nippon Oil & Gas Exploration Corporation (President & CEO: Toshiya Nakahara; Headquarters: Chiyoda-ku, Tokyo) and commissioned by the Japan Organization for Metals and Energy Security (JOGMEC; Chairman: Ichiro Takahara).
<Outline of CCS Project Plan in the Study>
| | |
| --- | --- |
| Emission | ENEOS refineries and J-Power thermal power plants in Western Japan |
| Mode of transport | Vessels and pipelines |
| Potential storage site | Off northern to western Kyushu (offshore saline aquifers) |
| Storage volume | 3 million tons/year |
JOGMEC has positioned projects with large-scale potential as "Advanced CCS Projects (Note 1)" for CCS promotion and expansion with the goal of achieving carbon neutrality by 2050 and is supporting the entire value chain from CO2 separation and capture to transport and storage in an integrated manner. The offshore northern to western Kyushu CCS project will be the largest among candidate projects in JOGMEC's advanced CCS projects with an annual CO2 storage capacity of about 3 million tons.
MOL will conduct an initial study of the voyage plan, estimate marine transport costs, and identify risks and issues related to the use of a liquefied CO2 carrier (liquefaction conditions: low temperature and low pressure, medium temperature and medium pressure) collected at J-Power's thermal power plants and ENEOS's refineries in Western Japan to the potential storage sites.
Through this study, MOL will contribute to the start of domestic CCS by FY2030, and ultimately to the realization of a carbon-neutral society.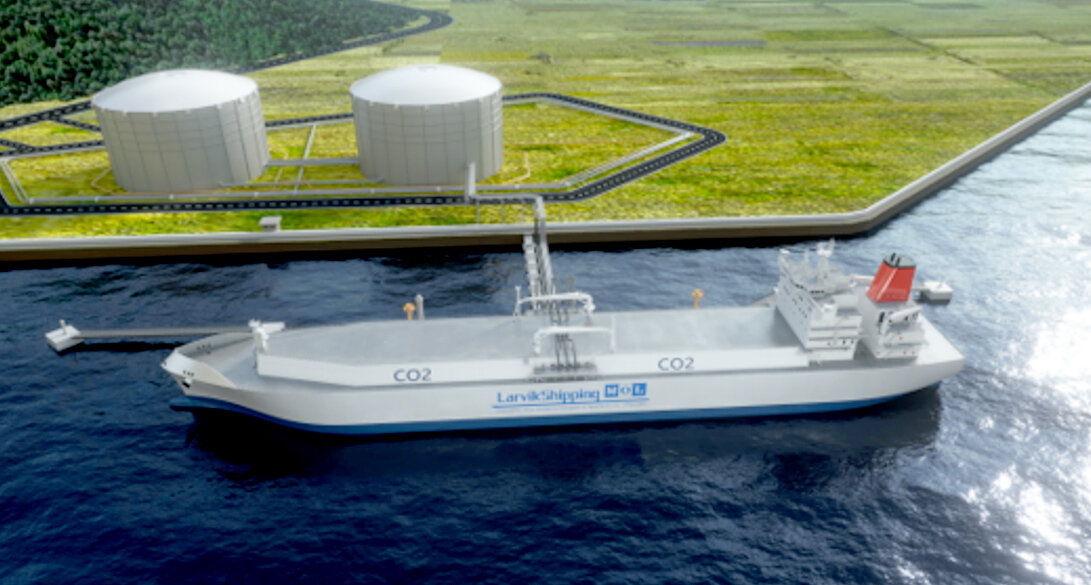 The MOL Group Vision is to develop a variety of social infrastructure businesses in addition to traditional shipping businesses, and meet evolving social needs including environmental conservation, with innovative technology and services. In addition to the MOL Group Vision, this project is in line with the expansion of offshore and non-shipping businesses set forth in the "BLUE ACTION 2035" management plan, as well as an action to "Expand Low-carbon/decarbonized Business by Leveraging the Group's Collective Strengths" in the "MOL Group Environmental Vision 2.2". With these contributions to the sustainable development of society and the preservation of nature, from the blue oceans, the MOL Group sustains people's lives and ensure a prosperous future.
(Note 1) For details on the "Study on the Implementation of Advanced CCS Projects," please refer to the following URL.
https://www.meti.go.jp/english/press/2023/0613_001.html
---
MOL Group 5 Sustainability Issues
MOL Group identifies "Sustainability Issues" (Materiality) as our key issues for sustainable growth with society through realization of the Group Vision.
We anticipate this initiative to contribute especially to the realization of "Safety & Value -Provide added value through safe transportation and our social infrastructure business-", "Environment -Conservation for Marine and global environment-", "Innovation -Innovation for development in marine technology-".