September 07, 2023
TOKYO-Mitsui O.S.K. Lines, Ltd. (MOL; President & CEO: Takeshi Hashimoto) today announced that MOL has become the first Japanese shipping company to participate in the non-profit organization "Leadership Initiative to Promote Maritime Cluster Innovation and the Blue Economy (Note)," organized by Washington Maritime Blue (WMB; CEO: Joshua Berger; Headquarters: Seattle, Washington, U.S.) , a strategic alliance for the collaborative creation of a sustainable maritime industry.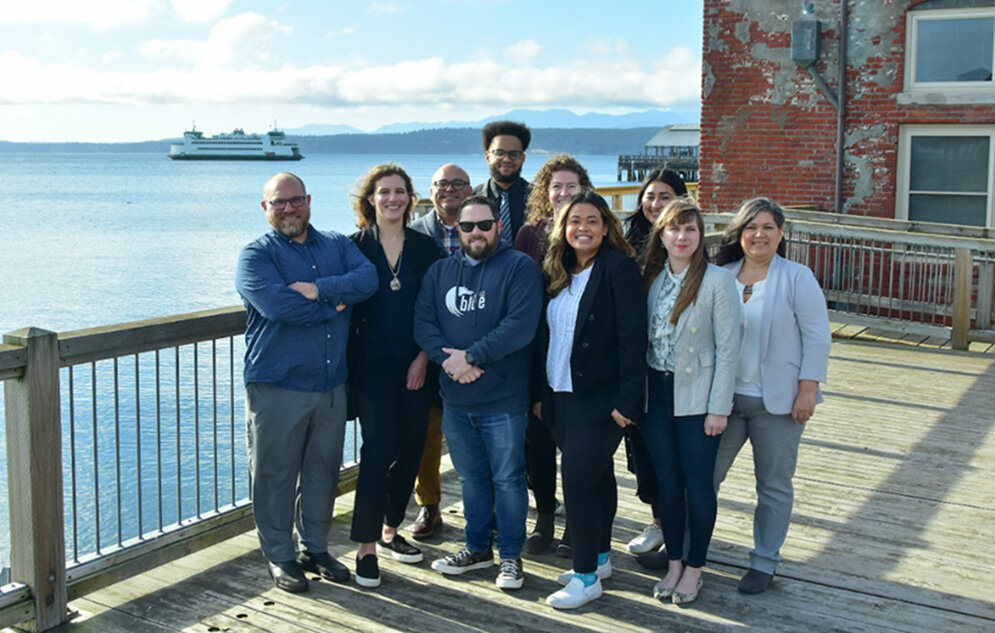 WMB membership encompasses more than 150 maritime organizations such as port authorities, port management companies, tugboat companies, classification societies, industry associations, research institutes, and government agencies as well as shipping companies, plus more than 50 startup companies specializing in cutting-edge maritime technologies. It is forming clusters that accelerate innovation in maritime-related technologies and promote the Blue Economy, by connecting across corporate and organizational boundaries and building a broad and diverse network. MOL will contribute to the development of this cluster by leveraging the technological expertise and know-how it has accumulated over the years in the ocean transport and offshore businesses. The company will provide technology demonstration opportunities for stakeholders in the cluster, especially start-ups, and broadly explore potential strategic partnerships and collaborations.
WMB CEO Joshua Berger said, "We are honored to have MOL join Maritime Blue as a Catalytic Member of our strategic alliance and innovation cluster. Together we will work to advance and accelerate ocean-based climate solutions, including maritime decarbonization, digitalization, renewable energy, ocean health, and more," says Joshua Berger, Maritime Blue's president and CEO. "Attracted to our region's leadership, MOL brings significant expertise, capacity, and commitment to our collaborative model for joint innovation and desire to accelerate new ventures in the sector."
The MOL Group has positioned environmental strategy as one of its key strategies in its "BLUE ACTION 2035" management plan, and established the "MOL Group Environmental Vision 2.2." In pursuit of a world in harmony with nature, the group focuses not only on measures to address climate change, but also biodiversity protection, air pollution prevention, and marine environmental conservation, which is deeply related to marine transport, its main business. The group will work closely with WMB and participating members to address social issues.
(Note) Activities to achieve economic growth through sustainable use of marine resources
<Company Overview>
Mitsui O.S.K. Lines, Ltd.
Mitsui O.S.K. Lines, headquartered in Japan, is a leading global shipping company operating about 800 ships across the world. MOL develops various social infrastructure businesses centering on ocean shipping, technologies and services to meet ever-changing social needs including environmental protection. The MOL fleet includes dry bulk ships (bulk carriers), liquefied natural gas (LNG) carriers, car carriers, and oil tankers. In addition to its traditional shipping businesses, MOL is also developing "wellbeing life businesses" such as real property, cruise ships, and ferries, in addition to social infrastructure businesses such as terminal operations, logistics, and offshore wind power. With one of the largest merchant fleets, about 140 years of history, experience, and advanced technology, the MOL Group will make great strides toward becoming a global social infrastructure company, sustain people's lives from the blue ocean, ensure a prosperous future and provide new value to all stakeholders.
For more information about MOL, please visit https://www.mol.co.jp/en/index.html
About Washington Maritime Blue
Washington Maritime Blue is a non-profit, strategic alliance formed to accelerate innovation and sustainability in support of an inclusive blue economy. With a mission to implement Washington State's Strategy for the Blue Economy delivered by Washington State Gov. Jay Inslee's Maritime Innovation Advisory Council, we are a partnership between industry, the public sector, research & training institutions, and community organizations. Maritime Blue works to create a world-class, thriving, equitable, and sustainable maritime and ocean industry through knowledge sharing, joint innovation, entrepreneurship, commercialization, business & workforce development. Working regionally and globally, we are headquartered in Seattle, Washington, USA, managing the Blue Hub, a collaborative work and meeting space for members, partners, and stakeholders from around the world.
For more information about WMB, please visit: https://maritimeblue.org/
---
MOL Group 5 Sustainability Issues
MOL Group will contribute to realizing a sustainable society by promoting responses to sustainability issues, which are identified as social issues that must be addressed as priorities through its business.
We anticipate this initiative to contribute especially to the realization of "Environment -Conservation for Marine and global environment-", "Human & Community -Contributing to the growth and development of people and communities-", and "Innovation -Innovation for development in marine technology-".