October 06, 2023
TOKYO-Mitsui O.S.K. Lines, Ltd. (MOL; President & CEO: Takeshi Hashimoto) today announced that on October 1, it welcomed 47 new employees (new graduates at sea: 14; career recruits on land: 33). President & CEO Hashimoto delivered the following message at the entrance ceremony on October 2.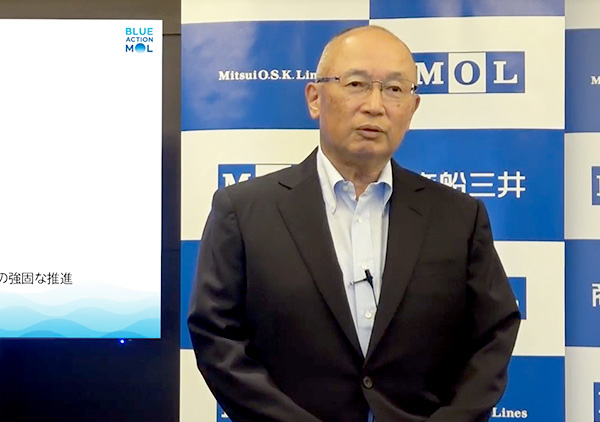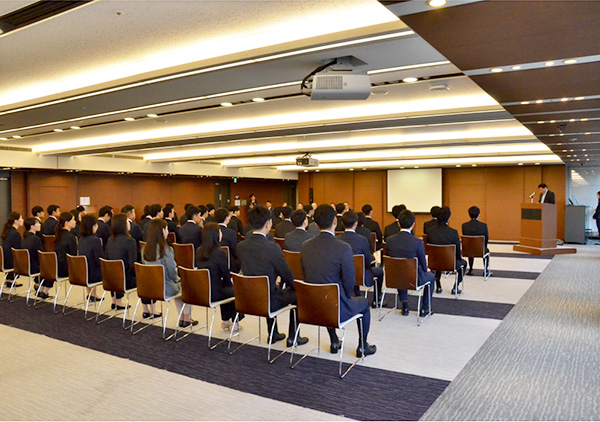 ---
I am very happy to welcome you all here today.
We announced our group management plan "BLUE ACTION 2035" in the spring of 2023. I would like to briefly introduce its aims and objectives to you.
The MOL Group's target is to reduce greenhouse gas (GHG) emissions intensity in transport by 45% from 2019 levels by 2035 and to achieve net-zero GHG emissions by 2050. And in BLUE ACTION 2035 we focus on how to build the company's business by 2035 from multiple angles.
We have long been in the infrastructure business in the broad sense of the term, with a focus on ocean shipping. In the future, we will not limit ourselves to the conventional shipping business, we rather aim to develop various other social infrastructure businesses. On top of that, we will carry out portfolio transformation and spread our business wings to include offshore wind power generation-related business and real property, in addition to logistics. We also aim to stabilize our group-wide business base and reduce GHG emissions throughout the group through various businesses like offshore wind power.
To strengthen the transformation, we newly established the Headquarters of Wellbeing & Lifestyle Business in April 2023. The new headquarters seek to strengthen the group's real property, ferry, and cruise businesses. By growing these non-shipping enterprises while maintaining the growth of the shipping business, we will balance the group as a whole to create a business structure that can generate stable profits even during downturns in the shipping market.
As we deepen our regional strategy, we must continue our expansion into rapidly growing regions such as Asia, Africa, and Latin America. In its about 140-year history, the MOL Group has supported Japanese industries and lifestyles with a focus on the shipping industry. While retaining our original heritage, we will make the leap to become a resilient global enterprise to achieve even greater growth in the future.
It is the human capital of each and every one of you that will support this. With this in mind, let's all work together with a greater awareness of diversity, equity and inclusion.