October 13, 2023

Mitsui O.S.K. Lines, Ltd.
Daibiru Corporation
MOL PLUS Co., Ltd.
MOL Group's Daibiru Corporation (President: Takashi Maruyama; Headquarters: Kita-ku, Osaka), today announced the start of the corporate venture capital (CVC) business and with MOL's CVC MOL PLUS Co., Ltd. (CEO: Takuya Sakamoto; Headquarters: Minato-ku, Tokyo)(Note1) opened the "MOL PLUS Daibiru Desk" at Daibiru office, which is operated by Daibiru and MOL PLUS.
The Daibiru Desk aims to "create a new city" by upgrading the real estate business and creating new businesses through investment in and support for startups such as property technology (Note 2), smart city technology, environmental sustainability, and digital transformation (DX).
MOL Group outlines its plan to promote non-shipping businesses as well, including real property business, in addition to its traditional ocean shipping business in its management plan "BLUE ACTION 2035," aiming to further solidify its business base. By strengthening the CVC business as group, the group aims to be a strong and resilient corporate group that grows on a global scale and meets the needs of a changing society.
[Contact the Daibiru Desk]
(Note 1) For more information on MOL PLUS, please refer to the January 21, 2021, MOL press release:
MOL has decided to establish 'MOL PLUS' as Corporate Venture Capital Fund.
MOL PLUS invests in a wide range of fields that could lead to the creation of new businesses, in addition to fields that could lead to the transformation of the ocean shipping and logistics business models that MOL has operated over many years.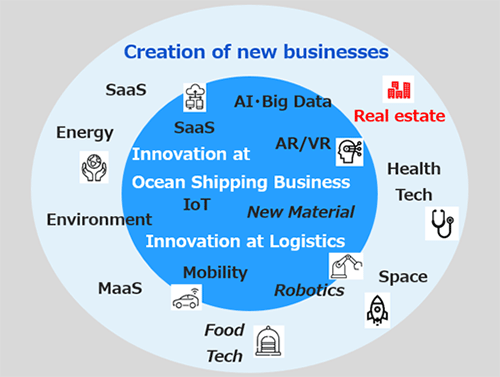 (Note 2) Property technology refers to initiatives that use technology to solve problems and change traditional business practices in the real estate industry.