November 01, 2023
Mitsui O.S.K. Lines, Ltd.
MOL Coastal Shipping, Ltd.
TOKYO-Mitsui O.S.K. Lines, Ltd. (MOL; President & CEO: Takeshi Hashimoto) and its group company MOL Coastal Shipping, Ltd. (President: Hiroshi Kobayashi) today announced that an MOL Coastal Shipping-operated 499 GT coastal vessel, the "Tetsuun Maru No.1" (shipowner: Tetsuun Kisen KK.), was successfully operated using biofuel made by mixing waste cooking oil directly with heavy fuel oil.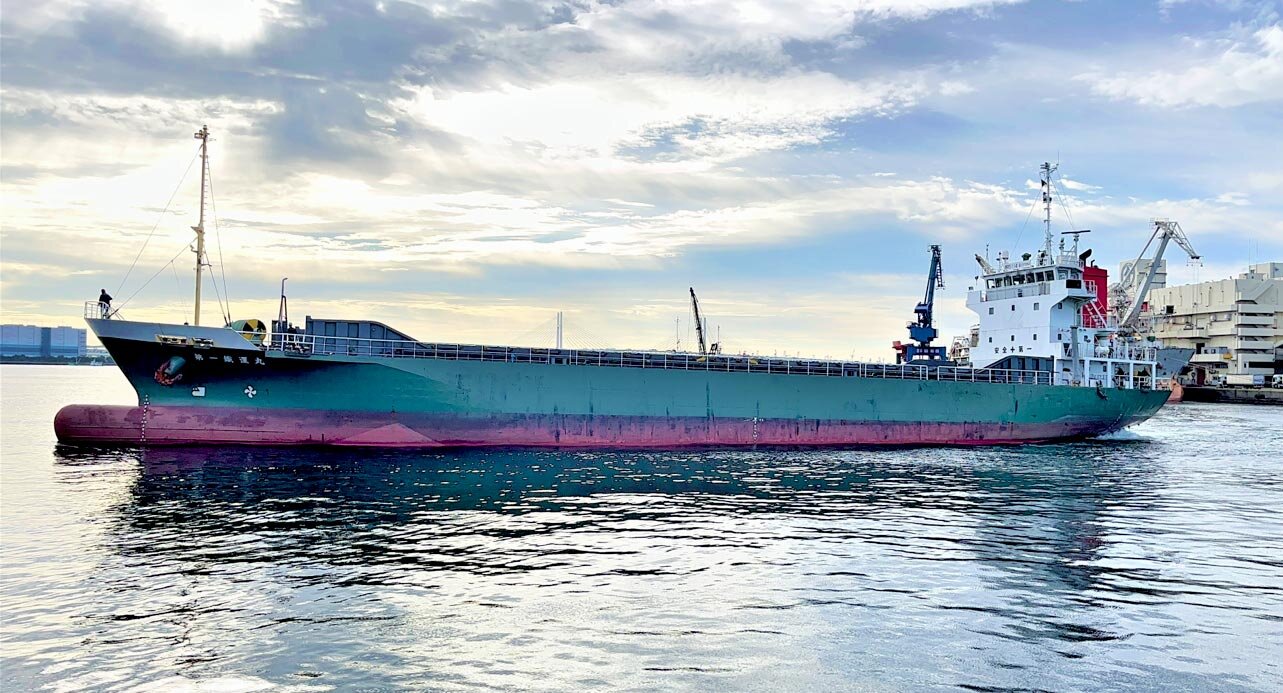 The biofuel used on the vessel is made by mixing waste cooking oil derived from vegetable oils and fats in Japan without chemical treatment with heavy fuel oil. This marks Japan's first initiative to use this kind of biofuel to marine vessels.
Hanwa Co., Ltd. supplied the biofuel to the vessel in the Chukyo region as part of a research program on marine applications of biofuels by Japan's Ministry of Land, Infrastructure, Transport and Tourism, in cooperation with Tokyo Steel Manufacturing Co., Ltd., the cargo shipper. The vessel operated on the biofuel mixture for about a month, plying a route between Mikawa Bay and Tokyo Bay, and reported no flammability problems or other issues.
Until now, the main raw material for biofuels has been Fatty Acid Methyl Ester (FAME), which is produced by chemical processing of waste cooking oil and methanol. In this project, used cooking oil was mixed with heavy oil A (mixing ratio of Bio was 24%) in almost its original form as straight vegetable oil (SVO) and used in a general-purpose ship type, 499 GT coastal vessel (Note 1). Since the SVO undergoes no methyl esterification or hydrogenation process, it is likely to reduce carbon dioxide (CO2) emissions even more than other biofuels and can be supplied at a lower cost.
Biofuel is positioned as an effective clean alternative fuel that can be used without changing the specifications of the vessel's main engines, and so on. As stated in the "MOL Environmental Vision 2.2" updated in April 2023, it can be an effective means of reducing carbon dioxide emissions, especially in small coastal vessels that have limited space for tanks and other equipment required for other alternative fuels.
This initiative on coastal vessels follows a sea trial for use of liquefied biomethane fuel conducted in June (Note 2), and through these initiatives, the MOL Group will contribute to the reduction and decarbonization of ocean transport.
(Note 1) Vessels of 499 GT or less account for 62% of all vessels of 100 gross tons or more (Source: Ministry of Land, Infrastructure, Transport and Tourism).
(Note 2) For details, please refer to the following press release.
June 21, 2023: Successful Sea Trial on a Domestic LNG-fueled Vessel for Use of Liquefied Biomethane as Marine Fuel – Achieving Net Zero Emissions in Ocean Transport -
---
MOL Group 5 Sustainability Issues
MOL Group identifies "Sustainability Issues" (Materiality) as our key issues for sustainable growth with society through realization of the Group Vision.
We anticipate this initiative to contribute especially to the realization of "Environment -Conservation for Marine and global environment-" and "Innovation -Innovation for development in marine technology-".