Energy-Saving Propeller Boss Cap Fins System Reaches Major Milestone - Orders Received for 3,000 Vessels
May 20, 2015
Mitsui O.S.K. Lines, Ltd.
MOL Techno-Trade, Ltd.

TOKYO - Mitsui O.S.K. Lines, Ltd. (MOL; President: Koichi Muto) and MOL Techno-Trade, Ltd. (MOL Tech; President: Shugo Aoto) today announced that the energy-saving Propeller Boss Cap Fins (PBCF) - developed by MOL, West Japan Fluid Engineering Laboratory Co., Ltd. (President: Shiro Matsui), and Nakashima-Mitsuwa Propeller Co., Ltd.(President: Yusuke Nakashima), and marketed by MOL Tech - have now been ordered for 3,000 vessels worldwide.
The PBCF is an energy-saving device attached to the propeller of a vessel. It breaks up the hub vortex generated behind the rotating propeller, resulting in a decrease of more than 9,000 tons of CO2 emissions per year because of a 3-5% reduction in fuel consumption, when installed on a large-scale containership.
Comparison of Hub Vortex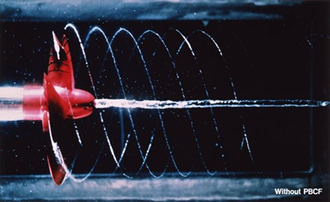 Before installation of PBCF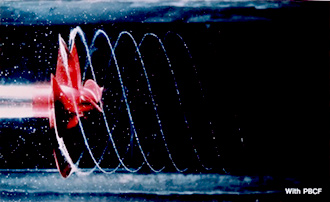 After installation of PBCF
Hub vortex disappears after the installation of PBCF
Research and development on the PBCF started in 1986, and sales began the following year. Since then an increasing number of shipowners, mainly in Japan, began to adopt the system. By 2006, the 19th year since the start of sales, the PBCF had been ordered for 1,000 vessels. Backed by concerns over rising fuel prices and growing awareness of the need to reduce CO2 emissions, it has gained worldwide recognition and the owners and operators who believed in PBCF's high-quality and performance have repeatedly ordered. The number of ships adopting it has doubled in just five years, reaching the 2,000 vessel milestone in 2011, and now exceeding the 3,000 milestone in just four years.
Features of PBCF are as follows;
3-5% reduction in fuel consumption and a corresponding reduction in CO2 emissions
A reduction in propeller torque
Installation is simple and straightforward, requiring only the removal of the propeller boss caps and replacement with the PBCF. No hull modification is needed.
The PBCF is an integral part of the propeller, with no other moving parts.
The PBCF system is custom made, with a design optimized for the shape of the vessel's propeller. Lead time is three to four months from order to delivery.
It is maintenance free after installation, requiring only inspection and polishing when the vessel is in drydock, and performance does not decline over time.
Reduced vibration in the stern less underwater noise
Reduced rudder erosion
The PBCF is easy to install, and is mounted only with bolts like a normal boss cap. It is also maintenance free after installation because it has no moving parts. These features have made it a popular energy-saving device and a brisk seller even nearly 30 years after its introduction.
To realize the goal of "solid growth through innovative changes" stated in the midterm management plan STEER FOR 2020, the MOL Group has worked to develop next-generation vessel concepts to reduce environmental impact through the Senpaku ISHIN project. The PBCF is one of the key elemental technologies. The MOL Group's ongoing efforts to develop and refine various environmental technologies contribute to environmental protection by reducing CO2 emissions from vessels.
[ Reference: Corporate profile of MOL Techno-Trade, Ltd. ]
| | |
| --- | --- |
| Head Office | : MOL Techno-Trade, Ltd. |
| Capital | : 490 million yen |
| Main Activities | : Its business covers a wide range of fields, including: sales of fuel and lubricants, various ship machinery, ship stores, ship parts, and telecommunication equipment; sales of land-based air conditioning equipment and industrial machinery and equipment; real estate agency and sales; and maintenance of the National Oil Storage Barges. Its environmental products include heat shield paint, air actuate garbage compactor and energy-saving lighting fixtures in addition to PBCF. The company also markets safety-related products include scaffolding for inspection of bulk carrier cargo holds and maintenance operations. |
| URL | : http://www.motech.co.jp/e_index.html |
| PBCF website | : http://www.pbcf.jp/ |