MOL Subsidiary, Ferry Sunflower, Decides to Build 2 Newbuilding Ro-Pax Ferries
November 20, 2015
TOKYO-Mitsui O.S.K. Lines, Ltd. (MOL; President & CEO: Junichiro Ikeda) announced that its group company Ferry Sunflower Limited (President: Atsushi Igaki; Headquarters: Kobe, Hyogo Prefecture)(*1) is moving ahead with plans to construct two large-scale Ro-Pax (roll on/roll off passenger) ferries.
The newbuilding ferries will be delivered in March and June of 2018 as replacements for the Sunflower Satsuma and Sunflower Kirishima, which serve on the route connecting Osaka Port (Osaka Prefecture) and Shibushi Port (Kagoshima Prefecture). The new ferries will feature private staterooms with toilets, showers, washbasins, and refrigerators, allowing passengers to enjoy their trips in greater comfort. Public space on the new ferries will also be about 2.5 times that of current ferries. The new ferries will also play a greater role in the Modal Shift aimed at boosting the efficiency and earth-friendliness of Japan's domestic transport, with space for 16% more trucks.
The MOL Group continually develops services to improve the comfort and convenience of everyday life and contributing to economic and social development.
Outline of Newbuilding Ro-Pax ferries
(1)Length
: 192m
(2)Breadth
: 27m
(3)Gross tons
: 13,500 tons
(4)Main engine
: Diesel engine
(5)Capacity
: Passengers:709
Trucks:121
(6)Ship yard
: Japan Marine United
Corporation
(7)Delivery
: March, June 2018
(8)Names
: TBD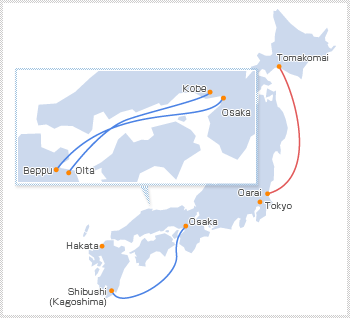 (*1) Ferry Sunflower Limited operates three routes:
1.between Kobe and Oita (Oita Prefecture)
2.between Osaka and Beppu (Oita Prefecture)
3.between Osaka and Shibushi (Kagoshima Prefecture)
(*2) MOL has two subsidiaries which operate Ro-Pax ferries: Ferry Sunflower Limited and MOL Ferry Co., Ltd. Last year, MOL Ferry ordered JMU to build two Ro-Pax ferries, which will be replaced as the ferries serving on the Oarai (Ibaraki Prefecture) – Tomakomai (Hokkaido) route in 2017.
Please visit their Web sites for more information.