Next-generation Car Carriers "FLEXIE" to Feature Energy-saving Rounded Bow
- Hull Design Aims to Reduce Wind Resistance, Cut CO2 Emissions by 2% -
April 07, 2016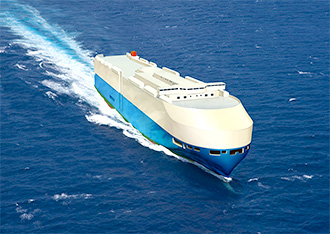 TOKYO-Mitsui O.S.K. Lines, Ltd. (MOL; President & CEO: Junichiro Ikeda) today announced the hull design for the "FLEXIE" (*1), its next-generation car carrier, which will be built at Minaminippon Shipbuilding Co., Ltd. (President: Ryutaro Ikebe; Headquarters: Usuki-City, Oita Prefecture) and delivered in 2017.
The rounded bow shape will minimize wind resistance and is expected to reduce CO2 emissions by about 2% compared to today's car carriers. The new shape is the result of joint research by MOL, MOL Techno-Trade, Ltd. (President: Shugo Aoto; Headquarters: Chuo-ku, Tokyo), and Akishima Laboratories (Mitsui Zosen) Inc. (President: Katsuyoshi Nishimura; Headquarters: Akishima-City, Tokyo).
MOL has already developed the wind resistance-reducing car carrier Courageous Ace (*2), which received the Ship of the Year 2003, the new energy-saving windshield for containerships to reduce wind resistance (*3), and a new prototype sailing rig called the "Power Assist Sail." (*4) The company is participating in the "Wind Challenger Project," (*5) promoting research and development on ways to cut wind resistance and utilize wind to help propel the merchant ships of the future. The innovative bow design introduced today is a result of those efforts.
The MOL Group has launched the "Senpaku ISHIN" project to develop innovative new vessels that will reduce the environmental impact of vessel operations. It continues R&D on a range of environmental technologies, and works to protect the environment by reducing the volume of CO2 emissions generated by vessels.
(*1) See press release on April 23, 2015:
MOL Signs Deal to Build 4 Next-generation "FLEXIE" Car Carriers
(*2) See press release on September 26, 2006:
MOL Patents Wind Resistance-Reducing Car Carrier Design
(*3) See press release on September 3, 2015:
New Energy-saving Windshield Installed on Containership MOL MARVEL for Demonstration Test
(*4) See press release on July 3, 2013:
MOL Starts New Sailing Rig Onshore Demonstration Test
(*5) "Wind Challenger Project" is a development project, led by the University of Tokyo, of ships that are assisted by propellers mainly based on sailing rig utilized a power of wind. Other than MOL, shipping company, ship's class and shipbuilding company and others are attended.