MOL New Maritime Academy in Philippines to Open in August
- Construction of Facilities Completed, Official Approval Received -
May 08, 2018
TOKYO-Mitsui O.S.K. Lines, Ltd. (MOL; President & CEO: Junichiro Ikeda) today announced that the establishment of MOL Magsaysay Maritime Academy Inc. (*1) in Salitran, Dasmariñas City, the Philippines — a joint project with Magsaysay Maritime Corporation (MMC) (*2) — has acquired official approval from the Philippine government's Commission on Higher Education (CHED), clearing the way for the academy to open in August.
MOL has offered training programs in Philippines with the goal of developing crewmembers who will uphold strict safety standards in vessel operation, such as onboard training program with its own instructors and crewmembers aboard its training ship, and the "3rd Year Program" targeted new seafarers from among third-year students at partner maritime schools in the Philippines, which MOL provided education and training at its group training center in the Philippines.
MOL Magsaysay Maritime Academy aims to build upon the achievements and expertise accumulated through 3rd Year Program, which has graduated over 700 seafarers, and provides an ever-higher level of training quality.
Construction of the academy facilities is already completed. The academy's main feature, a training facility called the "Ship in Campus" is aimed at providing students with training that makes them work-ready as soon as they complete their studies. The facility imitates not only ship's exterior, but also its layout of the practice facilities inside the building, as realistic as possible. An inauguration ceremony for the academy is planned in September, with guests from Philippine government agencies.
Filipino seafarers play an essential part in MOL's worldwide vessel operations, and MOL aims to ensure the ongoing recruitment and training of high-quality seafarers by establishing this maritime academy in the Philippines to further improve marine technical skills, which is one of the items MOL calls for improving in its "Rolling Plan 2018" as the company works toward its goal of becoming "the world leader in safe operation."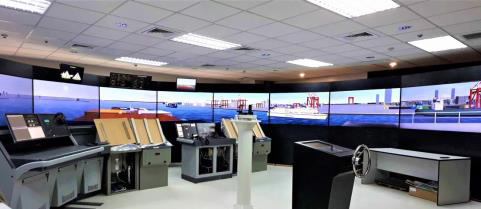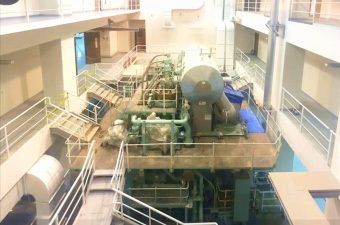 Training facilities of bridge (above) and main engine (below) inside "Ship in Campus"
[ Outline of Merchant Marine Academy ]
Name
: MOL Magsaysay Maritime Academy Inc. (4-year merchant marine university, boarding school)
Construction site
: Salitran, Dasmariñas City, Cavite State, the Philippines (about 30km south of Manila)
Scale
: Total site area: About 13.2ha
Total floor area: About 30,000m2
No. of students
: Max. 300 per year (150 each for navigation school and engine school)
Scheduled Opening
: August 2018
(*1) Please refer to the press release on March 9, 2016: MOL Breaks Ground on New Maritime Academy in Philippines
(*2) One of the largest manning companies and MOL's partner in the Philippines. MOL and MMC jointly established exclusive manning company for MOL, Magsaysay MOL Marine Inc. in 1997.