Inauguration Ceremony Marks Opening of MOL Magsaysay Maritime Academy
-700 guests on hand, including Philippine government officials -
September 14, 2018
TOKYO-Mitsui O.S.K. Lines, Ltd. (MOL; President & CEO: Junichiro Ikeda) today announced that an inauguration ceremony for MOL Magsaysay Maritime Academy Inc. (MMMA) (*1), jointly operated by MOL and Magsaysay Maritime Corporation (MMC) (*2), was held on September 12 in Salitran, Dasmariña City, the Philippines.
Around 700 people attended the event, including Senator Grace Poe, Secretary of the Department of Transportation Arthur Tugade, H.E. Koji Haneda, Japanese Ambassador-designate to the Republic of the Philippines, President and CEO Doris Teresa Magsaysay-Ho of A. Magsaysay, Inc.(Magsaysay), MMC's holding company, and MOL President & CEO Ikeda.
In his congratulatory address, MOL President & CEO Ikeda said, "MMMA symbolizes the strong ties linking Japan and the Philippines. MOL has believed for a long time that young Filipino people have enormous potential on the global stage. I hope MMMA will help the country's young generation realize their dreams and leap ahead in their career paths." And Magsaysay President & CEO Doris Teresa Magsaysay-Ho told the guests, "Together, we are committed to develop the maritime professional of the future, working at sea in a safe and complaint work environment and ashore in a dynamic Philippines as global maritime center so we can provide them an exciting, fulfilling and sustainable future."
With the aim of developing the No.1 maritime academy in the Asia-Oceania region, MOL drew upon its extensive experience and knowledge gained through years of ongoing effort to train top-quality Filipino mariners who will become leaders in the global maritime industry. The company has high hopes that this rising generation will play active roles throughout the maritime community and take leadership in organizations that demand advanced, specialized education, including safety management, operational management, and business support.
Meanwhile, in advance of the inauguration ceremony, MMMA held an entrance ceremony with about 300 students and their families on July 23, and classes began on August 6.
Filipino seafarers play an essential part in MOL's vessel operations, and MOL aims to ensure the ongoing recruitment and training of high-quality seafarers by establishing this maritime academy in the Philippines to further improve marine technical skills-one of the items MOL calls for improving in its "Rolling Plan 2018," as the company works toward its goal of becoming "the world leader in safe operation."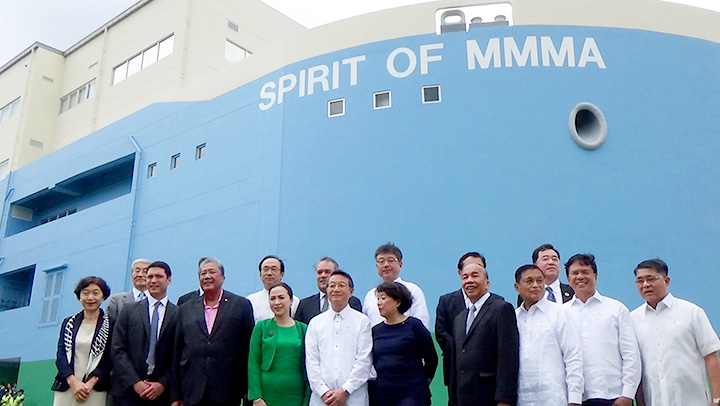 Inauguration Ceremony on September 12
[Outline]
Name
MOL Magsaysay Maritime Academy Inc.
(4-year merchant marine university, boarding school)
Construction site
Salitran, Dasmariñas City, Cavite State, the Philippines
(about 30km south of Manila)
Scale
Total site area: About 13.2ha
Total floor area
About 30,000m2
No. of students
Max. 300 per year (150 each for navigation school and engine school)
Opening
August 2018
(*1) Please refer to the press release on March 9, 2016:
MOL Breaks Ground on New Maritime Academy in Philippines
Please refer to the press release on May 8, 2018:
MOL New Maritime Academy in Philippines to Open in August
(*2) One of the largest manning companies and MOL's partner in the Philippines. MOL and MMC jointly established Magsaysay MOL Marine Inc., an exclusive manning company for MOL, 1997.