March 16, 2023
TOKYO-Mitsui O.S.K. Lines, Ltd. (MOL; President & CEO: Takeshi Hashimoto) today announced that on March 14 in Seoul, Korea, its wholly owned subsidiary in Hong Kong, MOL Hong Kong Limited (MOLHK) signed a lease agreement with YALE GLS Logistics (YALE; CEO: Hyungdo Cha), a logistics company in Seoul, Korea, for the MOL COILPORTER® (see video and overview below), an innovative system for lashing steel coils during containerized transport of steel coils, jointly developed by MOL and its group companies.
[Video of MOL COILPORTER®]
[Outline of MOL COILPORTER®]
The MOL COILPORTER® is the new cradle used to lash steel coils, an essential material for automobile manufacturing and other industries, to ensure safer containerized transport.
Differences from the conventional lashing are as follows.
(Please refer to the April 22, 2020, press release: Introducing the MOL COILPORTER®, a Differentiated Product for NVOCC Business - Next-generation Cradle in Steel Coil Container Transport -)
Conventional lashing

Assembly/Loading

About 1 hour by two skilled carpenters (measurement/cutting/ carpentry).
Manually carry and construct with square timbers weighing from 150-200kg.
Special equipment is required to load into the inner depths of the container.

Disassembly/Unloading

Requires time-consuming dismantling work such as removal of nails from the lashing material.
Special equipment is required to unload the coils from deep inside the container.

Resiliency

Square timbers are in direct contact with coils, subjecting the cargo to risk of damage.

Environmental impact

Timbers are discarded after dismantled at the unloading operation.
MOL COILPORTER®

Assembly/Loading

About 3 minutes per cradle even with inexperienced workers.
Maximum weight of Eperan® (Foamed polyethylene developed by Kaneka Corporation) used is about 3kg/part.
The cargo can be pushed into the container for loading, and no special equipment is required.

Disassembly/Unloading

Easy to dismantle thanks to assembly kit.
The cargo can be pulled out for unloading, and no special equipment is required.

Resiliency

High resiliency reduces risk of cargo damage.

Environmental impact

Eperan® is recyclable, so there is no waste.
Since its commercialization in April 2020, the MOL COILPORTER® has been used mainly by domestic customers in Japan, and in October 2022, 1,000 coils were transported safely and securely from Kobe to Okinawa. (Note 1)
Furthermore, since the MOL Group has received many inquiries from overseas customers, it has established an organization to promote MOL COILPORTER® sales and leasing at MOLHK, to meet the needs of domestic and overseas customers.
The lease agreement with YALE was resulted from a series of discussions between YALE and MOLHK. YALE and MOL Group will work together to promote the use of the MOL COILPORTER® as a solution for the import/export of steel coils to/from Korea as well as for domestic transport in the country.
In addition, leveraging the strength of its independently developed products, MOL will continue the improvement and development led by MOLHK, and respond to various problems and needs in the transport of steel coils, wire coils, and other related products, both in Japan and overseas.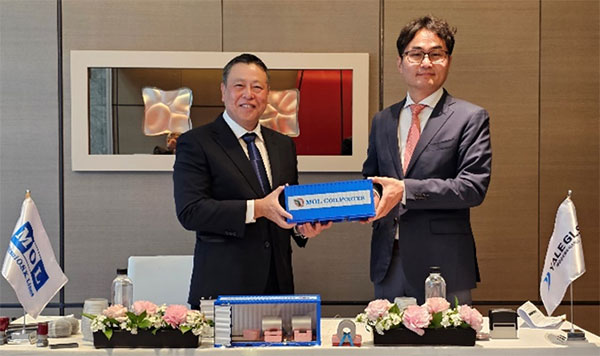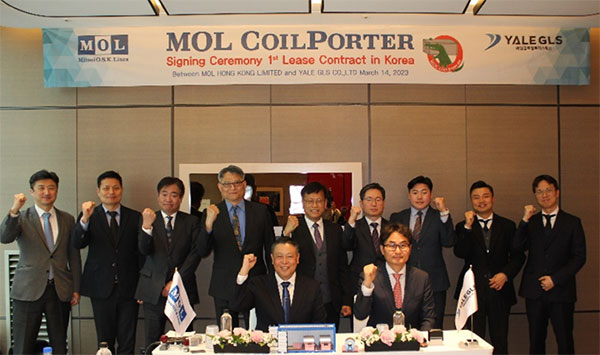 The signing ceremony
(Note 1) For more information, please refer to the MOL Service Site below.
MOL COILPORTER®: Coastal Conventional Vessel and Ferry Transportation of Steel Coils using 10ft containers from Kobe to Okinawa | Project Overview | MOL Service Site (mol-service.com)
[MOL Group 5 Sustainability Issues]
MOL Group will contribute to realizing a sustainable society by promoting responses to sustainability issues, which are identified as social issues that must be addressed as priorities through its business.
We anticipate this initiative to contribute especially to the realization of "Safety & Value -Provide added value through safe transportation and our social infrastructure business-", "Environment -Conservation for Marine and global environment-", and "Innovation -Innovation for development in marine technology-."