March 24, 2023
TOKYO-Mitsui O.S.K. Lines, Ltd. (MOL; President & CEO: Takeshi Hashimoto) today announced that an Ocean Thermal Energy Conversion (OTEC) demonstration project using deep ocean water on Kume Island, Okinawa Prefecture, which is being undertaken by MOL, Xenesys, Inc. (President and Representative Director: Kenichi Fukushima; Headquarters: Koto-ku, Tokyo, Note 1) and Saga University (Note 1), has been selected by the Ministry of the Environment for the "FY2022 Technology Development and Demonstration Project for Regional Symbiosis and Cross-Sectoral Carbon Neutrality".
Since April 2022, MOL, along with Saga University and Kumejima Town, has participated in the operation of the only Ocean Thermal Energy Conversion Demonstration Test Facility in Japan owned by Okinawa Prefecture (Fig. 1), which is maintained and managed by Xenesys, and accumulate OTEC operation know-how. The aim is to achieve the world's first commercialization of OTEC on a 1 MW scale by around 2026.
The demonstration project includes manufacturing large, parallel-type titanium heat exchangers equivalent to 200 kW of power generation and verifying their performance from FY2022 to FY2024, aiming to establish large-scale heat recovery technology from seawater for the commercialization of OTEC.
(Fig. 1) The Ocean Thermal Energy Conversion Demonstration Test Facility
owned by Okinawa Prefecture (Kumejima Town)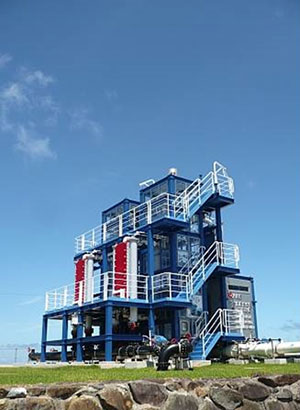 OTEC uses the temperature difference between warm water in the surface layer and cold water in the deep sea to generate electricity. Deep ocean water is pumped up from a depth of 600m or more and the energy is extracted from the temperature difference between the deep ocean water and the surface ocean water. Since OTEC is not greatly affected by weather conditions, it is capable of stable power generation 24 hours a day, ensuring stable and predictable power output.
Another benefit of OTEC that is drawing attention is that even after deep ocean water is used for power generation, the water quality is unchanged, and the temperature is still low enough to be used for secondary purposes such as fisheries, agriculture, and air conditioning.
Although research has been conducted in Japan, Hawaii, South Korea, and the Republic of Nauru, commercialization of this power source has not yet been achieved. MOL aims to quickly commercialize OTEC power generation in Japan and overseas through the operation of the Ocean Thermal Energy Conversion Demonstration Test Facility owned by Okinawa Prefecture, the verification research of feasibility and dissemination of OTEC in Mauritius,(Note 2) and this demonstration project, utilizing the knowledge and expertise it has accumulated through its offshore business and supply chain network.
The combined use of deep ocean water as a regional resource for OTEC, fisheries, and other fields is also known as the "Kumejima Model," and for more than 10 years, Kumejima Town in Okinawa Prefecture has been working steadily toward the realization of a decarbonized society and a regional recycling symbiosis zone. The commercialization of OTEC is in line with Kumejima's policy for increasing energy self-sufficiency through renewable energy (Kumejima Town Energy Vision 2020), and the project is being promoted in cooperation with the town. The project has drawn considerable attention both domestically and internationally, leading MOL to propose the demonstration project in parallel with plans for further expansion of deep ocean water intake facilities and combined use of deep ocean water in Kumejima Town.
MOL will work toward the early commercialization of marine renewable energy, which has great potential as a natural energy source.
(Note 1) Xenesys, which jointly proposed the project, and Saga University, the joint research partner, have world-class OTEC technologies and have participated in various OTEC projects worldwide.
Xenesys: http://www.xenesys.com/english/index.html
Saga University: https://www.ioes.saga-u.ac.jp/en/
(Note 2) Please refer to the following press release for other MOL's OTEC initiatives.
July 14, 2022: Verification Research of Feasibility and Dissemination of Ocean Thermal Energy Conversion in Mauritius Selected for NEDO Project - Accelerating Commercialization of Ocean Renewable Energy, Following Project Now in Operation in Okinawa -
[MOL Group 5 Sustainability Issues]
MOL Group will contribute to realizing a sustainable society by promoting responses to sustainability issues, which are identified as social issues that must be addressed as priorities through its business.
We anticipate this initiative to contribute especially to the realization of "Safety & Value -Provide added value through safe transportation and our social infrastructure business-", "Environment -Conservation for Marine and global environment-" and "Human & Community -Contributing to the growth and development of people and communities-".